When it comes to creating incredible social-first content, brands can extend their personalities without compromising their brand characters is they are smart and strategic about it. On fantastic example is from Our Lady of Lourdes Catholic Church in Minneapolis. The church got it ALL perfect.
In case you weren't following the NFL playoffs last weekend, the Minnesota Vikings offed the New Orleans Saints on a very improbable (perhaps, miraculous) touchdown on the last play of the game. The New Orleans Saint safety was described by Monday afternoon commentators as making the worst defensive play in the history of the NFL.

ABC Breaking News | Latest News Videos
Nevertheless, the back and forth scoring in the last moments of the game was conducive, one might expect, to desperate-for-a-Super-Bowl Minnesota fans making any number of deals with God IFFFFFFFFF the Vikings could win.
Taking advantage of that sentiment, Our Lady of Lourdes parish offered this Facebook post on Monday morning following the game.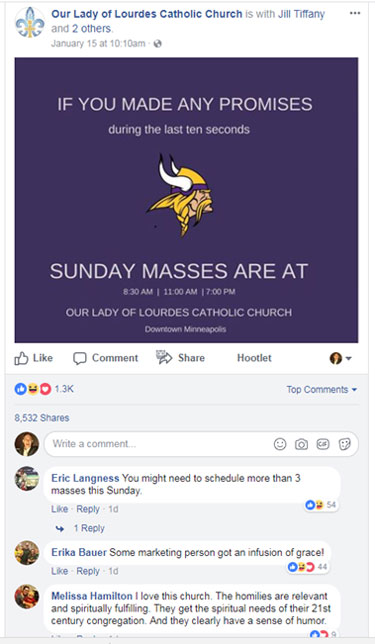 This demonstrates that a brand (i.e., a local Catholic parish) not typically associated with humor can extend its personality into new realms. It is also a fantastic example of managing the right mix of delivering on:
Audience Needs and Interests
Compelling Content
Smart Brand Integration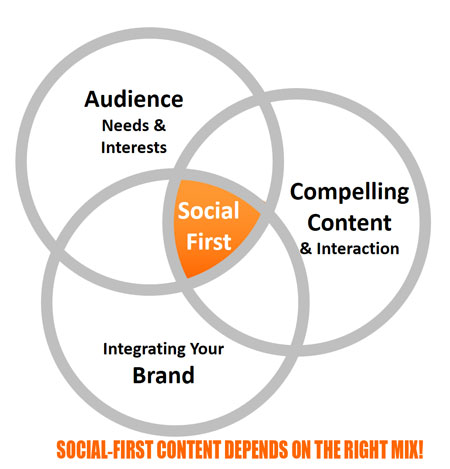 For its targeted Minnesota audience, the content addressed an over-the-top interest: the Vikings win.
This compelling content was also over-the-top with its simplicity and clear ties to the Vikings. It cleverly walked the line between serious admonishment and a wink of the eye acknowledgement that people make promises to God all the time that they never live up to successfully.
Finally, because the Facebook post fulfilled the first two expectations so marvelously, the church was free to insert its brand directly into the message through including its Sunday mass times.
We love, love, love how smart this post is. You can see how well-rewarded it was based on the shares and reactions it earned.
Want to go deeper into winning social-first content marketing strategy?
Want to immerse yourself in valuable learning from practitioners doing the real work of social media and content marketing strategy?
Do you want to comfortably network with business and marketing professionals across industries in a reasonably sized setting where you don't have to navigate through 15,000 attendees and a mile of conference rooms?
Then join The Brainzooming Group crew at the Social Media Strategies Summit in San Francisco, February 6-8, 2018!
You can even enroll at a 15% discount if you sign up NOW using the promo code, SMSSMB15. BTW, I think the MB in that SMSSummit promo code may stand for Mike Brown, but I'm just guessing.
The Social Media Strategies Summit is one conference where we've participated multiple times across several years and ALWAYS learn new concepts and ideas!
If you want to go all-in for the Brainzooming experience at the Social Media Strategies Summit, sign up for the pre-conference workshop I'm presenting: Writing an Effective and Sustainable Social Media & Content Marketing Plan. We'll be talking about developing the components of a social-first content marketing strategy that makes sense for both your brand AND your audience.
Be sure to join us and learn more about creating compelling content that will bring your social and content marketing strategy to life. Register today and save 15% with the SMSSMB15 promo code and join us in San Francisco this February at the Social Media Strategies Summit! – Mike Brown