I pulled the grid below from a previous article. In that article, you will find a hand-drawn copy of the grid scrawled on an easel pad. I created it at the spur of the moment to answer a workshop question about negative project team members. The grid helps you place team members based on how good they are for business (meaning their level of productiveness and working for the good of the cause) and how predictable their behaviors are. You love the people in the upper right (highly predictable in how good they are for business). For people in other quadrants, it suggests strategies to maximize their impact, as best possible.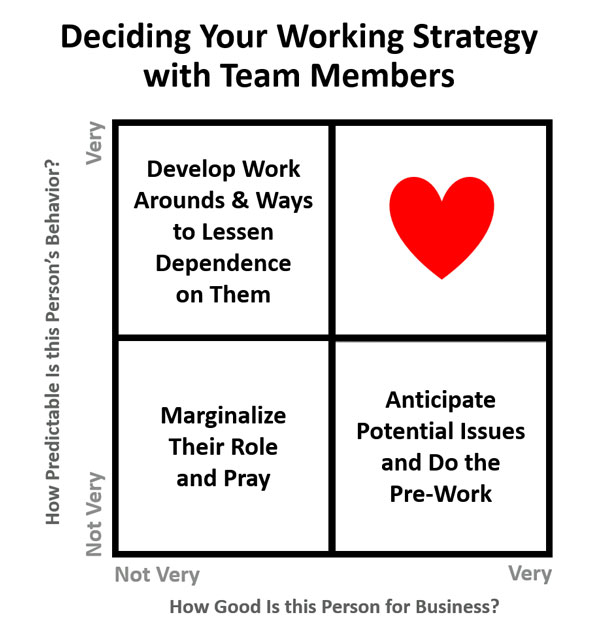 I used it recently with a friend to recommend a strategy for dealing with a baffling nonprofit group. The person is a member on a new team. The team leader is sending off very different messages than other leaders. After a negative email interaction, the team member suspected the leader was simply unpredictable, even though halfway good for the team. Because he thought the leader was a positive player for the team, he walked away from a subsequent personal conversation thinking it was a seemingly positive air clearing. Based on this, he doubled down on trying to deliver on the team leader's expectations. It turned out he was reading the situation incorrectly. In an insidious way, the themes from the email exchange continued to show up from the team leader and a couple other team members close to him.
When the team member shared the situation with me, I had to acknowledge that it was shocking. Things that would make you simply walk away from participating in the team. Playing through this whole scenario made it all clear. The leader is VERY predictable AND he's "bad for business" more often than not. That's led to the team member figuring out how to still perform expected duties while reducing his time investment as quickly as possible.
What Do You Do with Negative Project Team Members?
Life is too short to put up with overtly destructive behaviors, especially when you are volunteering your time, expertise, and energy for a cause that you believe in.
Whenever you are on a project team, you hope that everybody is in the upper right quadrant. That's wonderful when it happens.
I recommend you keep this post around, though, just in case the ideal doesn't pan out. – Mike Brown
Related Resources for You