I stopped by the grocery store to use the ATM the other morning before leaving for New York to deliver a content marketing strategy workshop today at the Social Media Strategies Summit.
I decided to walk around the store to find something for lunch before getting on the plane. Finding nothing even remotely appealing, I headed for the door, not expecting to witness a solid customer experience strategy lesson.
Passing by the checkout aisles, I noticed a customer starting to unload her cart. Based on the checkout area's configuration, the checker couldn't see where the customer was or that she was beginning to unload her groceries. Since the store was dead this early in the morning, the checker came around to the front of the lane to wait for customers. By this point, the customer had moved further into the lane, but after the checker left her post.
The result?
The customer had her groceries all out on the belt. She was ready to have them checked, pay, and get out. The entire time, the checker was at the front of the aisle looking for customers heading her way to see them early and run around to her station to provide quick service.
DOH!
Watching this scene develop, I stopped by the front door to see how long it was going to take for either the customer or the checker to realize there was a problem! It took so long, and I was in a hurry, waiting thirty seconds wasn't enough time to see how long it finally took to discover the mistake.
Is Your Brand Making this Customer Experience Strategy Mistake?
Turning to go, I realized I have been guilty of doing the same thing as the checker. Many a brand is guilty of this as well: so eagerly trying to track down a new customer that it is missing all kinds of opportunities to serve and accommodate the customers it has.
Poor visibility into customer interactions or faulty customer experience strategy design could both be issues. That was the case in the grocery store. Other times, it may be that there's more thrill in the hunt for a new customer than in tending to those you already have.
No matter the reason, it's a good idea to step back and ask: Are we treating our current customers with all the enthusiasm and attention we show to the new person that is just walking through the door!
Well, are you? – Mike Brown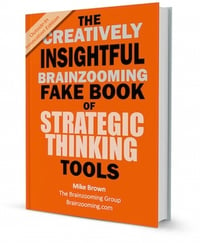 Business growth can depend on introducing new products and services that resonate more strongly with customers and deliver outstanding value.
Are you prepared to take better advantage of your brand's customer and market insights to generate innovative product ideas? The right combination of outside perspectives and productive strategic thinking exercises enables your brand to ideate, prioritize, and propel innovative growth.
Download this free, concise ebook to:
Identify your organization's innovation profile
Rapidly deploy effective strategic thinking exercises to spur innovation
Incorporate market-based perspectives into your innovation strategy in successful ways