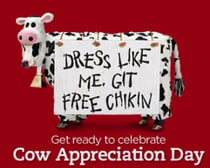 Last Friday, July 9 was "Cow Appreciation Day" at Chick-fil-A. Customers dressing up as the company's signature cow icon were rewarded with free meals (for a head-to-toe cow costume) and sandwiches (for any part of a cow costume). While there was a microsite set up for the day to allow customers to find locations and a Facebook page to upload photos, the interactive brand strategy was clearly geared toward a real life visit to a nearby Chick-fil-A restaurant.
We headed out for dinner on Cow Appreciation day and saw many customers more than happy to turn themselves into Chick-fil-A brand icons for a reward valued at less than $5.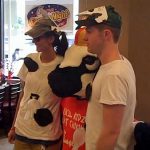 What a brilliant interactive brand strategy to get your customers to jump through a pretty easy "brand" hoop in exchange for what a restaurant might give away on a typical "buy one get one free" coupon requiring no customer brand interaction other than showing up at the restaurant.
In this case, turning couponing into an interactive brand strategy delivering a memorable brand experience creates all kinds of residual brand value in stories, pictures, videos, and likely, increased people per ticket as we witnessed large groups routinely entering the restaurant we visited.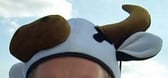 And what about my Cow Appreciation Day participation? We'll I love free Chick-fil-A as much or more than the next person. I put on my Ben & Jerry cow socks and a cow beanie and collected my free sandwich as well! - Mike Brown