What's the story on the innovation strategy for beer?
The Kansas City American Marketing Association monthly lunch addressed that question. Former Vice President of Innovation at Anheuser-Busch, Pat McGauley, shared stories of his past twelve years creating the company's innovation team.
Rather than playback the various innovation strategy stories Pat McGauley shared, here is a sampling of quotes and points he made that stood out as great thought starters:
Not all innovation strategy inside a company is created equal.
Pat's innovation team was responsible for product and packaging innovation. He reported that packaging innovation was more difficult to develop than liquid innovation. Based on comments he made regarding working with retailers on in-store shelving, product innovation may have been easier because it might lead to a fight for shelf space. Packaging innovation, on the other hand, could require making the case for a different shelf entirely.
Not all innovation teams are created equal.
Pat formed two innovation teams. One focused on near-term innovation strategy and the other on filling the three-to-five-year innovation pipeline. While the two team approach was designed to keep the longer-term team from getting pulled into today's fires, it presented challenges. The long-term innovation strategy team became too disconnected from current activities shaping the future environment its innovations would face. Both teams, however, were detached from the brand teams to minimize the pull toward shorter-term brand priorities.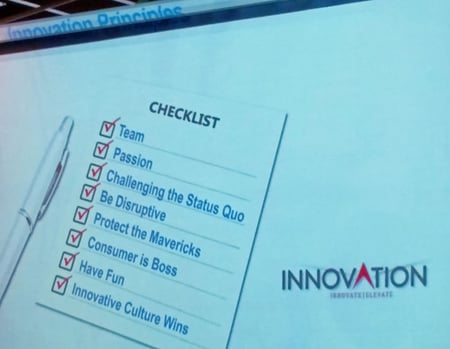 "If you have a whole room that thinks the same, you don't need all those people."
He was speaking to the choir about the need for diverse participation and varied inputs to trigger ideas. Their global innovation team went to Korea in 2015 to look for inspiration.
How you frame the question shapes the innovation strategy opportunity.
On a market segmentation chart, Pat was making the point that there are multiple ways to grow from innovation. Sometimes it's grabbing share from competitors in your category. In other situations, it's grabbing share from substitutes for your category. The chart drew the distinction between these "share of beer" and "share of throat" opportunities. That's an intriguing categorization you could apply to many businesses to point innovation opportunities in different directions.
"Sometimes a company needs something that the consumers don't need."
In covering a few innovation failures, Pat talked about Anheuser World Select. As he put it, "Anheuser-Busch needed an import beer, so we created a fake import." The company had become enamored with trying to solve the problem of not having an import, but consumers had access to import beers. They didn't need an inauthentic version from Anheuser-Busch.
"Renovation is putting new coats of paint on big brands."
Pat credited InBev (which merged with Anheuser-Busch in 2008) with introducing the idea of renovation to the organization. The innovation team spent 15% of its time on core brand renovation to enhance competitiveness.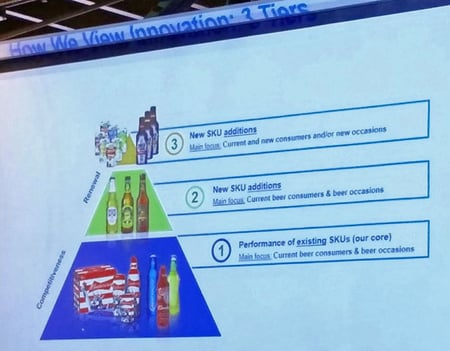 A leading company shunning innovation is "like someone hugging a block of ice."
You can hang on to a block of ice (representing a core capability) and refuse to move away from it, but eventually the block of ice is going to melt and disappear. Pat pointed to Jeff Bezos as a CEO with a contrasting perspective. He is always on the lookout to disrupt Amazon before the next Amazon does it.
Lackluster innovators can catch up quickly.
One chart depicted (I think) growth factors in the beer market from 2012 to 2014. In 2012, competitor innovation accounted for just 5% of growth in the beer market; Anheuser-Busch was the overwhelming leader in innovation-driven growth. By 2014, competitor innovation represented 35% of beer industry growth. - Mike Brown
Download our FREE "Taking the No Out of InNOvation eBook to help generate extreme creativity and ideas! For organizational innovation success, contact The Brainzooming Group to help your team be more successful by rapidly expanding strategic options and creating innovative growth strategies. Email us at info@brainzooming.com or call us at 816-509-5320 to learn how we can deliver these benefits for you.