It's a two-fer this week with customer experience and innovation expert Woody Bendle applying his 5 innovative curiosity questions from from yesterday's post by road testing them, in every sense of the word. Here's Woody:
Innovation - Applying 5 Questions for Innovative Curiosity by Woody Bendle
In my most recent Brainzooming article, I shared my perspective on five simple innovative curiosity questions, that when used regularly, can help to create more creativity.
What am I (or not) seeing that is new or different?
Where am I (or not) seeing it?
When am I (or not) seeing it?
Why am I (or not) seeing it?
Why am I not seeing more of it?
By applying these questions to as many circumstances as possible, one cannot help but to develop and refine their own creative curiosity – and ultimately become more creative and innovative. With this article, I thought I'd share an example of how one might apply these questions.
Innovative Curiosity Question 1 - What am I seeing that is new or different?
I spend a lot of time in my car pretty much every day - most of it on highways and interstates. I've found that this commuting time can be terrific for asking these questions. It is truly amazing what you can see if you are paying attention and regularly ask yourself, "What am I seeing?" Over the past year or so, I've begun noticing something different on semi-trucks:
The truck on the top has this interesting white fin or skirt between the front and rear wheels. I'm sure that I had been seeing these on trucks prior to the past year or so, but it didn't actually register with me that I was seeing them.
A complimentary question to "what am I seeing" I regularly ask is "how much of it am I seeing?" Sometimes, there needs to a critical mass for you to 'notice' something.
So on one of my recent morning commutes, I decided to count how many of these fins I saw. During the one hour I spent on the interstate, I counted 142 semi-trucks and 12% were using these things. They clearly aren't everywhere yet, but there are definitely more than just a few of them out there. And if we pretend that my sampling methodology was representative of this technology's adoption rate, then we are still in the "early adopter" phase of this product's Innovation Curve (see below). Meaning, there still might be some significant opportunities in this market.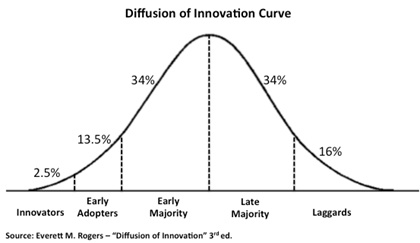 So now that we've noticed something and it seems to be early in the innovation lifecycle, let's think about our other questions.
Innovative Curiosity Questions 2 & 3 - Where / When am I (or not) seeing it?
Once I recognized that I was beginning to see these fins on semis, I began to pay more attention to where and when I was seeing. By that I mean, what types of trucks or which carriers were (or were not) using these things.
A few of the things I've noticed:
The trucks that tend to have these things seem to be newer rather than older
It feels like fleets associated with low margin businesses (food, grocery, shipping, discount retailing) are adopting these things faster than other types of businesses
Even with the fleets that are adopting these fins, I'm not seeing it on 100% of their fleets (For example, I'm seeing these on some of Walmart's 6,500+ trucks – but

way

less that half of them at this point)
I am not seeing these fins on flatbeds, tanker trucks or trailers carrying intermodal shipping containers
I'm also not seeing these on smaller fleets or independent hauler rigs
Innovative Curiosity Question 4 - Why am I seeing it?
This is one of the more critical questions to really explore because it can help us understand what is motivating what we are seeing. It can also help us determine how much opportunity there might be for additional adoption or further innovation.
Building on my observation that the adoption rate seems to be relatively higher among lower margin categories, I assumed these things had something to do with aerodynamics, fuel efficiency and cost savings. With a little digging on the internet, I found some information on Wikipedia supporting my hunch.
These 'skirts' as Wikipedia calls them are regarded as a recent innovation for the trucking industry. It is claimed that these skirts can produce fuel efficiencies of about 5% (EPA-verified). Five percent fuel savings seems interesting, but how big of a deal is a 5% fuel saving? Is there really a need and opportunity here for this type of an innovation?
According to the American Trucking Association (ATA), in 2010, there were 2.3MM Class-8 trucks (like the trucks shown above) used for business purposes, in the US. These trucks logged 99.2 billion miles (this is equivalent to going to the moon an back 21,000 times). At an average fuel economy of 6 miles per gallon, that means these truck consumed about 16.5 billion gallons of fuel. And, at $3.80 per gallon of diesel fuel, that translates into nearly $63B in annual fuel costs! A five percent savings on that would be about $1,365 per registered truck travelling about 45,000 per year. This doesn't feel like chump change to me!
Let's arbitrarily assume for the moment that the opportunity, for whatever reason, is really only half of the trucks or trucking miles. An aggregate 5% fuel savings on one half of the market comes out to nearly 42MM fewer gallons of diesel consumed each year ($1.6B savings annually). That would fill roughly 42,000 fuel tanker trucks. And to put that in perspective, if you lined up 42,000 fuel tanker tucks bumper-to-bumper, you would reach from one end of Pennsylvania to the other on Interstate 80. That's a lot of fuel!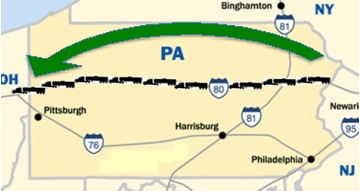 So we have a pretty good idea as to why we're seeing it. And, it seems as though there's the potential to see even more of it. Now on to our last questions.
Innovative Curiosity Question
5 - Why am I not seeing it and/or why and I not seeing more of it?
Above in the 'Where / When am I seeing it' section I noted that I wasn't seeing it on relatively older trailers. I also noted that I wasn't seeing it on certain types of trailers (i.e., Flatbeds, Intermodal Shipping Container Trailers, and Fuel Tankers). This observation leads me to wonder if:
Perhaps there is a challenge with the installation or configuration on certain types of trailers or on trailers made of certain materials
Perhaps these types of trailers need to get in and out of unique places and maybe the skirts cause a problem with that
I also noted that it didn't seem as though there was as much adoption with smaller fleets or independent trucking outfits.
Perhaps these things are really expensive
I have also noticed that the skirts that I'm seeing appear to be constructed out of nylon, fiberglass or maybe even a thinner metal.
Perhaps there is a durability issue
If any of these things prove to be the case, and there really is a legitimate need and sufficient demand for these trailer skirts, it sure seems as though there might still be some serious opportunities for more innovation.
Uncovering Every Opportunity for Innovation
Let me wrap up by stating that I believe nearly everything around us poses an opportunity for innovation – so long as there is a legitimate underserved of unmet consumer need. And hopefully through this exercise of the Five Curious Questions, you can see that Innovation comes from the ability to see things that nobody else sees in things that everyone sees. Now let's get innovating! - Woody Bendle
Download the free ebook, "Taking the NO Out of InNOvation" to help you generate fantastic creative thinking and ideas! For an organizational innovation success boost, contact The Brainzooming Group to help your team be more successful by rapidly expanding strategic options and creating innovative plans to efficiently implement. Email us at info@brainzooming.com or call us at 816-509-5320 to learn how we can deliver these benefits for you.