The other day, in an article on quickly creating 100+ cool product names, I mentioned a bad/great customer experience story. It happened while trying to catch an earlier flight from Baltimore to Kansas City.
(And BTW, if you didn't grab your copy of the FREE naming tool we developed for you, there's still time. It's one of the easiest, most productive marketing resources we've ever offered.)
Running My Tail Off
Back to the story: I was able to hustle to this early flight possibility out of Baltimore because of wrapping up an all-day client meeting early. I asked the Southwest gate agent, after looking at storms over the Midwest on radar, whether a flight through Chicago would get me home earlier than 9:40 p.m. That was the arrival time for my direct flight to Kansas City departing several hours later. Without saying much, he re-booked me, mentioning that while he couldn't confirm me on the Chicago flight, the available seats looked fine. I said, "Fantastic," bought the A7 boarding position, and was looking forward to getting home early after a week away.
I also thought about giving the gate agent one of the Thank You for Kicking Tail coupons Southwest had just sent me. The coupons are to easily facilitate frequent passengers in recognizing Southwest employees who excel at delivering a great customer experience. What a fantastic idea for prompting stronger customer-employee engagement. In the short time between the gate agent re-booking me and boarding the plane, though, I hadn't dug out the Kicking Tail coupons. I regretted that omission, at least until I boarded the plane.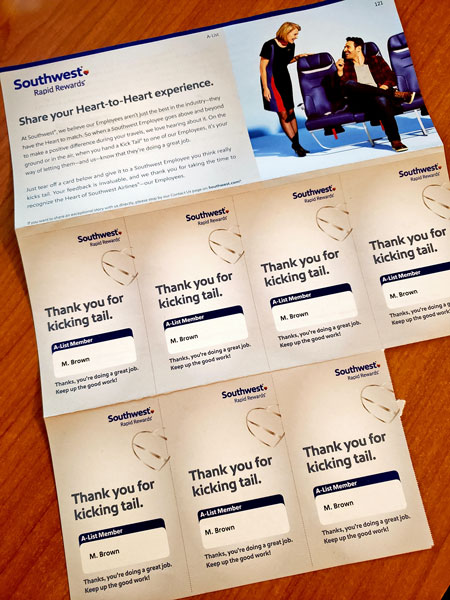 Southwest Can Kiss My Tail!
After settling in my seat and responding to Mess Wright about naming ideas, I checked my flight connection in Chicago on the Southwest app. That's when I realized the gate agent booked me on a flight scheduled to leave Chicago at 9 p.m. That night, it was projecting an even later departure: 10:30 p.m. He knowingly booked me on a flight combination arriving in Kansas City about 3 1/2 hours AFTER my original flight.
WTH???
The app showed the original flight combination I had envisioned would still reach KC at 8:30 p.m. After arriving in Chicago, I'd have to run to the gate for the 7:00 p.m. flight to Kansas City. That was the plan.
After landing at Midway, the KC flight's gate was close by. The Southwest gate agent there put me on standby. She couldn't confirm an upgraded boarding position immediately, though. She told me to return in 15 minutes. At that point, she said she could make it work. I tore off one of the Kicking Tail coupons and handed it to her with my thanks. That left a few minutes to grab a quick to-go dinner and hurry back.
Upon returning, the system wouldn't upgrade the seat. I don't know the impact the coupon had, but when it didn't work right away, she became tenacious. There was no way this wasn't going to work. She tried multiple ways to get the upgrade to take. She called another gate agent to handle the growing line of passengers. She contacted a supervisor to assist her. Suffice it to say, she wasn't going to stop until she got me on THAT Kansas City flight.
Because of her efforts, I arrived home an hour early!
Southwest Kicks Tail with a Great Customer Experience Recovery
Thank you, Southwest, for providing a way to both recognize her and motivate her to REALLY kick tail. It turned my crappy customer experience into a great customer experience win – maybe because she KNEW it would bring favorable notice! – Mike Brown