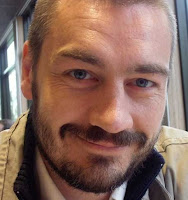 We have another international guest post this week. Andrew Tilling, from Surrey, UK, is a consultant specialising in creative thinking techniques, team dynamics and leadership. He heads Preseli Partnerships Ltd. which provides providing training, coaching and consultancy to help organisations make a difference.
Andrew is also a founding partner in The Nutshell Project, recognizing the value to be found in personal professional development time away from the demands of the day to day. Based on connecting on Twitter and visiting Andrew's blog, I asked him to share his perspective on the importance of place on creativity:
I have the luckiest job in the world. I am given the freedom to work with people to help them find new ideas, develop those ideas, and get on and make a change in their world. Plus, I get to do this in some beautiful places. It strikes me how much more creative people can be with a change of environment.
And as tempting as it is to write a detailed report on why all businesses should send employees to areas of outstanding natural beauty in order to boost creativity, it's more beneficial to explore what we can do to our own environment to help become more productive – and especially more creative.
The unconscious mind is our creative powerhouse. To help it along we need to understand it's capable of processing a lot more than our conscious mind. A natural, stimulating environment adds fuel to the creative fire. We are fortunate that simple objects can remind us of those environments. Objects help our unconscious access old memories in incredible detail, allowing us to draw on new connections and shifting our state into a more resourceful one.
Here are a few things you can add to your workspace to help you become more creative.
Have something natural – Innovators constantly draw on nature for ideas. We are part of nature and only our artificial environments disconnect us from that. Office policy or not on potted plants, you'll want something that grows (or at least grew) in nature to allow you to reconnect.
Make time work for you– Have a stop watch or countdown clock you can set for 10 minute bursts of concentration or bookmark a site with a countdown-clock.
Something from somewhere special – Remember a time when you felt free from the pressures of daily life? I have a notebook used while travelling that's never far from my desk. It helps unlock creative potential just thinking about it.
A picture of a creative genius – We all need a circle of inspiration – alive or dead. Find a picture of someone whose work blows you away. Learn about and talk with them often (in your head, of course, or people will think you are nuts).
A picture of a business genius – Someone else for your circle of inspiration. If you can keep in mind the demands of the market place while being creative, you have more chance of your ideas becoming a genuine innovation.
Blank paper and 4 color pen – These 'click' pens are awesome for mind-mapping. Shut your laptop lid and find somewhere comfy to sit and doodle.
Composition & presentation space – Recognize that finding and presenting an idea are two very different mindsets. Make different spaces for different kinds of work. Even if you can't move from your desk, you change your space internally through listening to different music styles.
Water – Drink it, walk by it, have it flowing nearby. Take holidays by it, swim in it, and study it. You are 90% water. A dear writer friend of mine swears by toilet breaks for getting over writers block. Water helps you get into the creative flow on so many levels. Without it, there is not much of you left.
An excuse to walk the scenic route – Whether it is walking a dog or feeding stale bread to ducks, get out into nature at least once daily. Walking will allow you to let off steam and clear your head. That beats playing "spot the idea amid all the clutter" and will make you rapidly more productive.
A crowded square – People-watching is a great for finding new associations to help your ideas grow. J.K. Rowling wrote Harry Potter in a coffee shop. Snatched snippets of conversations and chance encounters make all the difference – SO LONG AS YOU STOP TO LOOK AND LISTEN. Invest the time, and you will reap rewards.
Join the conversation – Social media is a constant source of inspiration nowadays. Just keep your objective in mind as you set your countdown clock and do a 10 minute resource harvest. Later, make sure you post something you learned in return to keep the flow going both ways.
I hope you find these tips to be as much value as I have. I love interaction, so if you have any questions, feel free to comment, get in touch on twitter (@andrewtilling) or check out The Nutshell Project blog. - Andrew Tilling