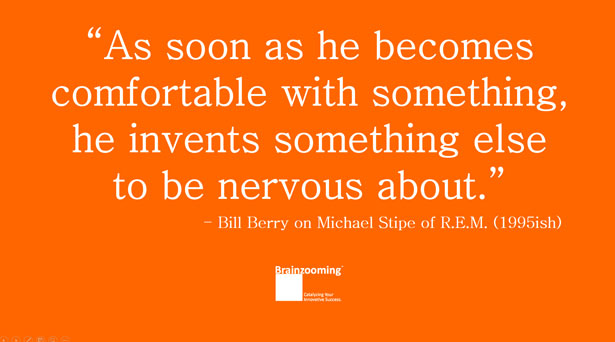 "As soon as he becomes comfortable with something, he invents something else to be nervous about."
- Bill Berry on Michael Stipe of R.E.M. (circa 1995)
Are you too comfortable to generate new creative ideas?
Would inventing something to make you nervous align with your creative thinking formula and attract more creative ideas? If so, what do you need to invent to make you nervous?
________________________________________
________________________________________
________________________________________
________________________________________
________________________________________
You don't have to stop at 5 things that make you nervous. You can keep adding to the list.
Here's my list of what I could invent to make me nervous.
Thinking that what I have been doing is growing old.
Imagining that I have forgotten how to do what I have previously done.
Reading my bad reviews.
Asking people what they think about my creative ideas.
Inviting my imposter syndrome in for a long night of hanging out.
Staring in the mirror.
Trying to figure out what I should be doing six months or a year from now.
Taking away my most important creative resources.
Putting myself into a completely new situation.
Volunteering for something I don't know how to do.
Agreeing to teach other people about something I do without thought right now.
Eating my own dog food.
Throwing away all my creative crutches.
Believing that anyone that says nice things to me is lying.
Letting someone talk me into something I know I have no business doing.
Deciding to quit going along with the crowd.
Comparing myself to others that (seem they) are doing better than I am.
Convincing myself that everything is about to crumble.
Comparing where I am to where I thought I would be by this point.
Picking up and going someplace totally new.
Telling someone that thing I've needed to tell them forever but just haven't been able to bring myself to do.
Committing more time, dollars, or energy than I have.
Saying no to a bunch of things that I would have agreed to before.
Stop reframing the current situation to make things feel like tiny victories.
Giving up on everything that's worked before.
Blowing up my archives of idea snippets, creative tools, and inspiration notebooks and files.
Starting over from scratch.
Tearing up my plans and going down a different path.
Not giving myself enough time or attention to get anything done.
I understand that new creativity comes from being nervous.
I've experienced it.
But I'm not sure this creative thinking formula and would boost my creativity. It seems like it would trample creativity for this Michael (Brown instead of Stipe).
How would making yourself nervous fit your creative thinking formula? Let us know your thoughts over at our Facebook page! – Mike Brown
Yes, strategic planning can be fun . . . if you know the right ways to liven it up while still developing solid strategies! If you're intrigued by the possibilities, download our FREE eBook, "11 Fun Ideas for Strategic Planning."