Yesterday's Wall Street Journal "Marketplace" section was like a who's who of retailers getting their rears kicked for not having new ideas and being unable to get ahead of changes now and in the future for retailing.
Among the headlines were:
Big Retailers Find It Hard Shopping for a CEO (featuring JC Penney, American Eagle Outfitters, and Target)
Whole Foods Shares Drop on Flat Earnings
Office Depots Plans to Shut 400 Sores
Sear's CEO Signals More Closings Likely
The CEO article that includes Target said the retailer is ready to move away from its 112-year track record of internal leadership to look beyond Target, and potentially the retail industry, for its next leader.
Why the change in strategy?
Target needs "fresh eyes" to create dramatic change, rapidly test more new ideas, and get "pilots" and "experiments" into its retail stores with greater speed.
Fresh eyes, more new ideas, and experimenting with greater speed?
Sounds like an organization trying to figure out how it is going to start Taking the NO Out of InNOvation!
The Taking the NO Out of InNOvation Webcast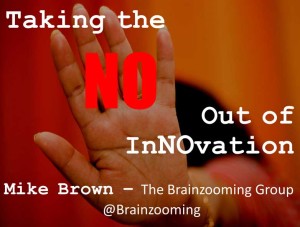 Maybe the timing is a coincidence, but yesterday also marked the release of the first Brainzooming webcast on our Taking the NO Out of InNOvation strategy. The twelve-minute webcast, part one of a three-part series, is featured on Smallbusinesstalent.com, whose founder, Stephen Lahey, is the undisputed #1 Brainzooming fan.
At least no one has dared step forward to run against Steve for the presidency of the virtual Brainzooming fan club!
If you enjoy and find value in our content on personal and business innovation, you'll definitely benefit from this three-part series that combines presentation content, blog links, and narration by me to bring the methodology we use to a new level of online availability.
Please jump over to SmallBusinessTalent.com for part one of the Taking the NO Out of InNOVation webcast. Stay tuned over the next two weeks for even more on Taking the NO Out of InNOvation!
We appreciate your support! – Mike Brown
Download the free ebook, "Taking the NO Out of InNOvation" to help you generate fantastic creative thinking and ideas! For an organizational innovation success boost, contact The Brainzooming Group to help your team be more successful by rapidly expanding strategic options and creating innovative plans to efficiently implement. Email us at info@brainzooming.com or call us at 816-509-5320 to learn how we can deliver these benefits for you.