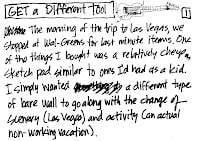 I've always wondered why Bruce Springsteen has only played a few guitars on stage during his career while Tom Petty seems to change guitars on nearly every song. The different strategy each of them takes probably comes down to what it takes to fuel creativity. The last several weeks, I've gotten a little better insight into the impact of various creative tools you might use.
The morning of a recent plane trip to Las Vegas, we stopped at Wal-Greens for last minute items. I bought a relatively inexpensive sketch pad similar to ones I'd had as a kid. My desire was to simply have a tool to spur creativity by offering a different type of bare wall to go along with the change of scenery (Las Vegas) and activity (an actual non-working vacation).
Lo and behold, the bare wall theory for creativity held up. On the way, I sketched out seventeen potential posts for another blog I'm doing. Once in Vegas, the creative tool of focus shifted briefly to the camera on my phone, which yielded another 5 ideas for posts. Returning from a quick trip to Washington last week, it was back to the sketch book's creative boost, writing out some posts (including this one) with a Sharpie marker.
Going back to a previously familiar creative tool has provided an opportunity to wring some new and varied creativity from it. Needless to say, I'm really enjoying the creative stimulus provided by the sketch book right now!
So ask yourself – are you more like Bruce Springsteen or Tom Petty when it comes to your creative strategy? And do you have all the tools you need to keep your creativity flowing in various situations? Act on the answers to these two questions to fuel your creativity! - Mike Brown
The Brainzooming Group helps make smart organizations more successful by rapidly expanding their strategic options and creating innovative plans they can efficiently implement. Email us at brainzooming@gmail.com or call us at 816-509-5320 to see how we can help make your strategic thinking and planning more productive, even when you're not on a plane!