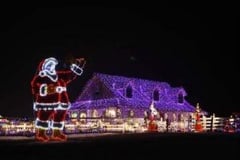 We feature a variety of reality-TV based extreme creativity ideas on the Brainzooming blog. I have been able to eat at a few Diners, Drive-ins, and Dives restaurants, but other than that, I don't have many in real life connections to these extreme creativity examples. Today's extreme creativity example is different!
Extreme Creativity at The Christmas Ranch
While on the elliptical trainer at our gym one December, an extreme Christmas lights show extreme reality show ( HGTV's Outta Control Christmas) was on throughout the bank of TVs. During the program, I saw my cousin's incredible display of Christmas lights, toy trains, and just about everything else celebratory, seasonal, and over-the-top extreme creativity for the holiday.
Since then, my cousin, Dr. Mike Fuchs, and his family have moved the Christmas display to The Christmas Ranch, featuring more than 350,000 animated Christmas lights across its ten acres, with an animated light forest and seven themed Christmas shops! Check out this quick video of what extreme creativity for the holiday looks like around Morrow, OH!