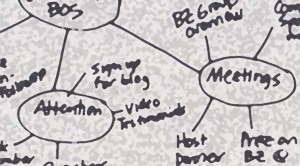 I created a mind map while brainstorming alternative sponsorship strategies to create value for both parties in a sponsorship opportunity. It was a rough mind map exercise done quickly with a Sharpie marker in my current blogging notebook. I needed to forward it to others for review, but rather than typing and organizing the mind map, I sent it as is, without making an effort to clean up my dirty ideas.
No, the mind map didn't contain dirty ideas, as in inappropriate ones. These ideas simply hadn't gone through any refinement when they were sent for others to take a look.
A time crunch was my initial reason for sending the mind map prior to trying to clean up my creative thinking. Maybe to further rationalize the decision, I came up with 8 other advantages to sharing dirty ideas:
It's time efficient because you're investing less time initially and on potentially undoing work you already did.
Since you've spent less time on the ideas, you'll probably be less invested in them and more open to suggested changes.
It reaffirms your openness as a leader and/or teammate.
It may be less intimidating to others who might be reluctant to offer suggestions.
There's a better opportunity to reshape your early creative thinking through input from others.
More rough edges on the ideas means more edges to trigger offshoots for new thinking.
Others can become more invested in the work through contributing their creative thinking.
You have more time to revisit and reconsider your creative thinking since it isn't finalized yet.
Go ahead. Next time you're done brainstorming, consider sharing your dirty ideas with your team. They'll like appreciate the opportunity to help clean them up for you. - Mike Brown
The Brainzooming Group helps make smart organizations more successful by rapidly expanding their strategic options and creating innovative plans they can efficiently implement. Email us at info@brainzooming.com or call us at 816-509-5320 to learn how we can help you enhance your strategy and implementation efforts.