Are you experiencing death by meeting syndrome at work?
In all likelihood, you are.
It seems as if everyone we talk to in companies of any size complains about the death by meeting syndrome where it's impossible to get any work done for all the business meetings they have to attend.
Is there anything you can do to deal with death by meeting syndrome?
Well, you can try!
Death by Meeting - 18 Articles on Effective Meetings
These 18 articles from the Brainzooming archives highlight various techniques we use to manage effective meetings, from meeting logistics to meeting dynamics and meeting decision making.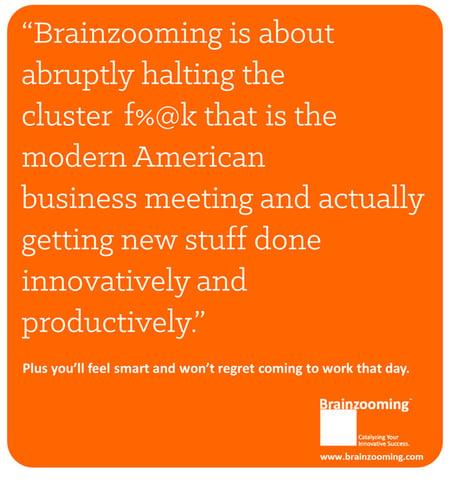 Effectively Preparing for Meetings
Productive Business Meetings – 16 Questions for Meeting Leaders to Ask
Strategic Planning – 5 Dangers of Cheaping out on Hiring a Facilitator
What You Can't See – A Mini Rant
Meeting Locations
10 Meeting Spaces for Work at Home Professionals, Other than Starbucks
Making Every Occasion an Event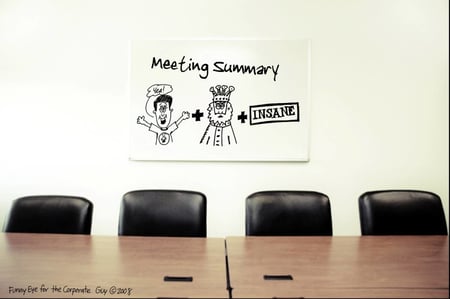 Meeting Dynamics
Fun Strategic Planning Activities – Do you like doing an ice breaker exercise?
A Strategy for Bringing Customers Into Every Meeting
Musical Chairs – A Seating Strategy
Working from the Same Side of the Table
Corporate Amnesia – 9 Ways to Prevent and Avoid It
7 Tips to Improve Conference Call Presentations
Streamlining Meetings
1 Simple Strategy for Improving Time Management
11 Examples of Strategic Thinking without an Offsite Meeting
Strategic Thinking – 12 Ways Project Teams Can Stay out of the Weeds
Decision Making at Meetings
Creating Strategic Impact – 3 Project Management Steps to Productively Review Concepts
Making a Decision – 7 Situations Begging for Quick Decisions