I was in Milwaukee last week to for an innovation training presentation for the Milwaukee Business Marketing Association on "Taking the NO Out of Business InNOvation." During the trip, I had time for a few extracurricular activities. These included doing a couple of innovation training sessions for my former boss Doug Fisher's supply chain classes at Marquette University and touring the Marquette campus afterward with Doug. I worked for Doug for nearly seven years early in my career, and it was wonderful to catch up with him in person.
After the Business Marketing Association innovation presentation the next day, I visited the Milwaukee Art Museum to see the Hall Folk Art Collection. On the way out, I saw these brochures featuring four customized themes of interest to museum goers:
Impressing visitors with striking pieces
Feeling better about yourself through depictions of downtrodden people
Works featuring the color blue (which was once rarely found in art)
The particularly intriguing "Naughty Bits" tour which includes risqué works of art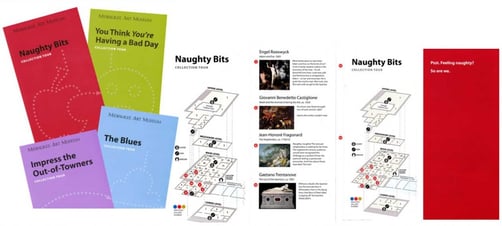 In a completely non-technical, and totally accessible way, the museum, which has several floors of art organized by collections and specific historical periods, has found a way to inform visitors about how they can easily customize the museum experience themselves in a novel way.
Think about your business. Is there a way you can adapt this customer experience strategy simply by creating a new categorization or organization scheme to your products, services, information, or whatever you offer that attracts customers? How can you employ a comparable strategy to make it more interesting, intriguing, easy, or valuable for customers to experience your brand in a customized way with no technology investment? – Mike Brown
The Brainzooming Group helps make smart organizations more successful by rapidly expanding their strategic options and creating innovative plans they can efficiently implement. Email us at brainzooming@gmail.com or call us at 816-509-5320 to learn how we can help you enhance your brand strategy and implementation efforts.