The folks over at "Inside the Executive Suite" from Armada Corporate Intelligence addressed an important aspect of customer experience strategy this week: turning your organization's claims of customer focus into real actions.
The following ideas (condensed from the original Armada article) highlight four ways to bring your aspirational customer experience strategy to life.
Customer Experience Strategy: 4 Ideas for Creating Customer Focus
In a Bloomberg Businessweek interview with GE CEO, Jeff Immelt, he comments, not surprisingly, multiple times on GE embracing a customer focus. He mentions that even GE narrowing its business portfolio ties to its customer focus: managing unrelated businesses is challenging and demonstrates more of a brand-first than customer-first perspective.
Immelt also discussed the GE transformation toward becoming a digital and software player. Immelt ties the strategic shift, without using the phrase, to the Internet of Things: GE jet engines have hundreds of sensors streaming performance information. Rather than standing by, GE wanted to play a vital role in modeling the data, turning it into actionable knowledge for customers.
Decisions that Benefit Customers
The idea of customer focus is easy to say, but challenging to implement.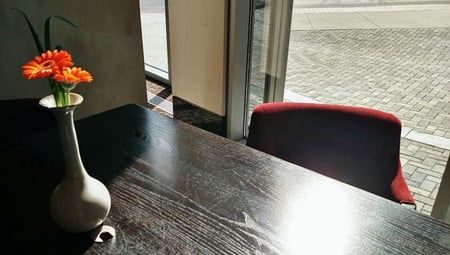 To make the concept more actionable, however, let's posit this idea: one meaningful way to demonstrate customer focus is through helping customers improve their own situations – whether or not it helps a company's own prospects.
This implies looking at business decisions from a customer's viewpoint, not the company's view. While that is natural for some organizations, it runs completely counter to business practices in many others. To stimulate your thinking about what this approach could look like in your organization, here are questions and potential responses for boosting your organization's customer focus.
1. Making Customers Better Buyers
Think about the price comparison tool Progressive Insurance ads feature. To keep potential customers from third-party sites, Progressive offers competitive price comparisons, even though it does not always win. This is scary for companies. It seems unnatural to boost a competitor's visibility, but consider how it could improve both customers' situations and your brand.
Questions to Explore
How can we facilitate easier and more accurate buying comparisons for customers?
In what ways can we help customers buy ONLY what they need ONLY when they need it?
Your Customer Experience Strategy Response
If you suspect your brand will not fare well in competitor comparisons, explore product and / or service enhancements to improve your position. You can also identify other features and benefits to incorporate into the comparisons to show the true benefit of your brand relative to the competitive set.
2. Creating Smarter Customers
In Immelt's example with GE, jet engine sensors provide the opportunity to boost customer knowledge in myriad ways. They offer current diagnostics, forward-looking indicators, and long-term trend data. Can the Internet of Things or other information flows provide the same types of insight benefits for your customers?
Questions to Explore
Where can we inform customers with performance and exception data they do not currently have access to with our products?
How can our products provide visibility to customers where they cannot easily get it right now?
In what ways can we deliver predictive information to customers?
Your Customer Experience Strategy Response
These questions challenge you to deliver better information to customers. This can improve their effectiveness, productivity, and growth potential. For your organization, it opens possibilities for new services to interpret the slew of data, further increasing the customer benefits you deliver.
3. Making Customers More Productive
Organizations seem increasingly open to radically different ways of accomplishing basic and advanced business functions. Look beyond your company's own boundaries to imagine new ways you can enable customers to improve their productivity levels.
Questions to Explore
How can we take on new functions for customers to allow them to extend their reach and impact?
Where are steps we can remove from our processes that don't provide value to customers?
Your Customer Experience Strategy Response
Simplification can be a very attractive market position. Simplify life for your customers, whether doing more for them or making them do less when they work with your organization.
4. Providing Greater Value
Many organizations bundle products and services to sustain higher price points. Too often, that's accomplished through including features that are inexpensive to provide yet offer little additional impact for customers. This is an opportunity to rethink your approach.
Questions to Explore
What are ways to unbundle what we offer so it better fits with customer needs, usage, and buying preferences?
Are there more attractive bundles from a customer viewpoint?
How can we cut the market price of what we offer by ½ to dramatically boost customer value?
Your Customer Experience Strategy Response
These questions cause you to decouple market price from the cost to produce what you offer. Building your price around the customer and the marketplace forces you to re-engineer what you do to achieve the lowest possible cost. That's a competitively strong way to increase margins vs. simply tacking on an increase to current prices.
A Starting Point for Your Customer Experience Strategy
Not all these areas apply to all companies. If your organization is truly customer-focused, however, tackling these questions will do more to move your brand in that direction than simply telling people you focus on customers. – via "Inside the Executive Suite"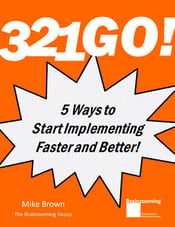 In the new Brainzooming strategy eBook 321 GO!, we share common situations standing in the way of successfully implementing your most important strategies. You will learn effective, proven ways to move your implementation plan forward with greater speed and success. You'll learn ways to help your team:
Move forward even amid uncertainty
Take on leadership and responsibility for decisions
Efficiently move from information gathering to action
Focusing on important activities leading to results