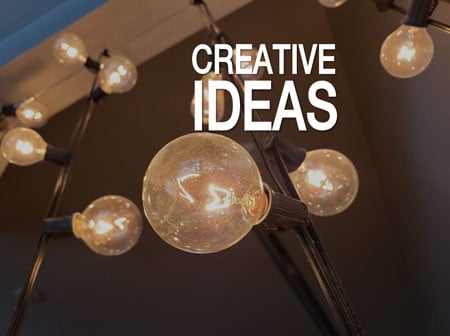 How can you get past the challenge of finding the elusive big idea? Use this alternative approach to generate many ideas with potential for significant business impact:
1. Use market-driven insights, brand objectives, and strategic leverage points in your business to identify a few specific areas to consider for possible innovations. Think a dramatically lighter, more compact laptop computer instead of big improvements in computers.
2. With a cross functional group, employ a wide variety of ideation techniques focused on your innovation target. Your goal should be generating and recording at least 1,000 possible ideas - in a day or over a period of time.
3. Have the same or another cross-functional group select 100 ideas seen as having potential promise for significant business impact.
4. Apply the 5 questions* below to each of the 100 ideas, generating at least one new idea from each question (net result - your 100 ideas should become 500+ ideas):
"How could we make this idea as _______________________?"
DRAMATIC

as a Broadway show opening?

COOL

as the design of Apple products?

EXCITING

as a triple overtime basketball game?

SIMPLE

as a baby's rattle?

FUN

as a blockbuster comedy movie?
* The important point is the question form; they're designed to get larger and different thinking than is typical. If there are other "orange" words more appropriate to your product or services, revise the questions.
5. Using the 500 new ideas plus the original 100, have people select 75 that they believe have breakthrough potential. For more background on prioritizing ideas, visit this previous post.
6. Narrow the list further using a potential impact (minimal to dramatic) vs. implementation ease (very easy to difficult) grid. Be on the lookout for dramatic ideas with slight implementation difficulty. These could be strong prospects for big ideas whose implementation hurdles can give you a development window advantage versus competitors.
7. Pick a manageable set of strong ideas for development. No guarantees that you now have a big idea, but there's a higher probability they'll emerge from this type of effort.
Want another way to judge ideas with "BIG" potential early on? When someone says an idea aloud in a group, two reactions often suggest ones with great potential:
A noticeable "

Oooooh

" from others, usually followed by a breathless silence as the idea sinks in.
There you have it. Best wishes in finding a lot of ideas with GREAT potential! - Mike Brown