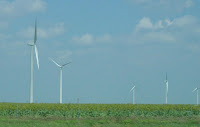 Back in Hays, KS with my parents over Labor Day, we took a road trip inside a road trip, heading to central Kansas on Saturday. It was reminiscent of trips when I was young, taking pictures of abandoned farmsteads and interesting buildings as inspiration for drawings and paintings I was doing then.
The first stop was the Smoky Hills Wind Farm along I-70 around Lincoln, KS. It's a great example of functionality (power generation) tied to natural resources (there's lots of wind in Kansas) and the surroundings. Although the wind turbines can appear stark and modern, their interplay with the rolling hills of central Kansas is fascinating and natural.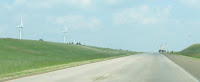 Because of how the interstate winds through the hills, the turbine placement, and the effects of foreshortening, there are several instances where the blades appear to be emerging from trees or waiting for vehicles to drive right into them. Click on the pictures here to get a better feel for this.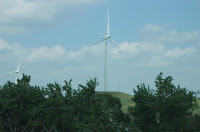 There are other instances where the juxtaposition of the turbines and an old conventional windmill sets up an intriguing contrast. And even with the current level of completion, the wind farm's visual impact is quite striking. I can't wait until it's fully operational.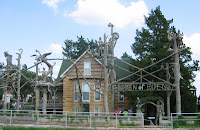 Afterward, we headed north to Lucas, KS to visit "
The Garden of Eden
," a 22 year project started in 1907 by Samuel Perry Dinsmoor. He fashioned limestone and 113 tons of cement into a faux log cabin and sculpture garden featuring the fall of man and various populist issues of his time. It has to be seen to be fully appreciated.
If you're traveling through Kansas on I-70, Lucas is easy to overlook (I haven't been there in more than twenty years), and the wind farm is impossible to miss. But both destinations, though very different, are very cool representations of Kansas and the creative aspects of its heritage.