I met Hillary Hopper on Twitter one night when she tweeted about a creative block. With a continual search in Tweetdeck for "creative block," I try to reach out to people and share some ideas. Interestingly, very few respond. Hillary did though, and that started a fun Twitter correspondence through a move, career changes, and seeing her design work, particularly in online gaming. Recently we talked about Hillary doing a guest article for Brainzooming during World Creativity and Innovation Week. We decided on Hillary discussing how creativity shapes her work for mobile game design at Tinyco. Here's Hillary Hopper!
Creativity in Mobile Game Design by Hillary Hopper
When I tell people that I am a mobile user interface/user experience (UI/UX) game designer, I think a lot of people either:
1. Don't understand what responsibilities the role entails
2. Think that I am someone who makes stock assets (i.e. boxes and triangles) for games
Thankfully my job does not entail that; at least not all the time. Instead, my role is steeped in a world of color and imagination. My expertise is in social simulation games such as Tiny Village and Farm Ville. I love this sector of the industry because it has a lot of creativity available to it. While working on Tiny Village, I have been able to be creative with creating icons, and theme of the UI, along with being more analytical and thinking about the user experience and flow.
In the mobile gaming industry, there is a lot of ground to cover when it comes to creativity and UI design. Mobile gaming has turned into a $12 billion dollar market and is growing over 50% per year. This has led people from all over the world to try their hand at creating mobile games of one kind or another.
Creating Harmony between UI and UX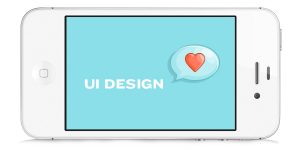 The aesthetics of a game are critically important because that is the first thing a user will see. UI/UX designers have to not only identify the kind of feel that a game needs to have, but they also have to be critically aware of the artwork that is being created for the game. Examples of artwork for mobile games include the look and feel of buildings, landscapes, and characters. More often than not, gaming companies will have a separate group that creates these assets, so it's possible for the teams to go on different paths.
Creating harmony between the user interface and the artwork is a fundamental design task and can be a very fun process. This process is actually much more complex than it sounds -- the user interface should not overwhelm a game's artwork or vice versa. Although there are several schools of thought about the synergy, I am a firm believer that UI should be secondary to the artwork and less noticeable. The best games today offer a user experience that helps the user navigate without being intrusive. For example, while working at TinyCo I have tried to create beautiful UI but have it not be distracting to the player. UI should not cover up, but should complement its surroundings and display information properly.
I've spoken about the user interface aspect but it's important to mention what the user experience aspect entails. Designing a game's user experience is an area that is extremely creative and stimulating. I spend a lot of time planning the flow of the game after a user interacts with game (i.e. tapping a UI button). This usually includes designing animations and modals. A strong user experience allows the user to navigate seamlessly through the game in a way that just feels natural.
Simple UX Design
A lot of people like to over think UX, but I view it as making the simplest solution possible. The simpler the process, the better it will be for the user and more intuitive. While working at TinyCo, some of the biggest UX questions have been solved by a simple solution. Sometimes it doesn't have to be some complicated UX. Most times it's designing a feature that is simple and makes sense.
Being creative about button placement and learning about the psychology of the human being helps a lot. During any UX project, designers must remember that humans are creatures of habit. Thus the UX should be almost a habit to make the user tap without even thinking.
Mobile Game Design as a Career
If you are a designer and wondering what type of industries to consider, I would strongly suggest mobile game design. Opportunities are abundant in Silicon Valley, Los Angles, and New York. But how do know if you're a good fit? If the following bullet points describe you, then you should consider UX/UI game design:
You love games
You play mobile games on your own
You notice the interface on all types of games
You enjoy making icons and love pixel perfect designs
Color theory is a strong suit for you and you love putting themes together
Being responsible for the design of a game's user interface and user experience is a challenging but rewarding opportunity. Because of the tight deadlines, the learning curve can be overwhelming at first. But once you learn its strengths and weaknesses it becomes a lot easier. You can see every pixel and color and making just one small mistake can be seen by everyone. I wouldn't want to work in any other field and have found it to be such a wonderful career. - Hillary Hopper
Download the free ebook, "Taking the NO Out of InNOvation" to help you generate fantastic creative ideas! For an organizational creativity boost, contact The Brainzooming Group to help your team be more successful by rapidly expanding strategic options and creating innovative plans to efficiently implement. Email us at info@brainzooming.com or call us at 816-509-5320 to learn how we can deliver these benefits for you.