The creative inspiration, in part, for the post about whether "Successful Innovation Can Only Happen in a Certain Way" was a "Creating" article in the Wall Street Journal about Italy-based gallerist and creative visionary, Carla Sozzani.
The article highlights how over the past 20-plus years she has created 10 Corso Como, a fashion and design-oriented art, retail, and publishing complex in Milan.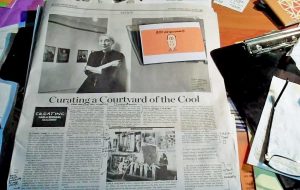 Carla Sozzani's perspective, as portrayed in the Wall Street Journal article, is of a creative visionary driving a strong personal creative vision throughout 10 Corso Como with apparently little need for collaboration or outside creative input. While that's not me, the confidence to make a strong personal creative vision work absent robust collaboration is both fascinating to me and a source to learn from and better apply in my own creative life. Here are 5 ideas I took away from the article:
1. Exclusively integrate your own creative sensibilities into everything
As mentioned in the intro, 10 Corso Como defies simple categorization. As much as anything, it sounds as if the connecting factor is Carla Sozzani herself, since she selects every item for sale. She extends her creative sensibilities into the experience as well, making clients sit during a purchase to bask in the luxury of time. It's clear your common creative thread doesn't have to be an idea or a theme. Your common creative thread can be YOU and your sensibilities!
2. Don't ask for creative advice if you don't want, need, or plan to use it
Sozzani eschews asking her audiences for feedback or input on direction. She states boldly that she has no interest in trying to please everyone since it's impossible to do. Instead, she scans for popular products that have yet to turn trendy and features these at 10 Corso Como.
3. Secondary research has a legitimate place in creative expression
Secondary research implies looking for answers to questions others have already asked and answered. Sozzani extends this concept to "secondary creativity," looking all over for creative inspiration on what to include in 10 Corso Como. Her creative inspiration appears to come from diverse exploration across creative media, geographies, and popularity, among other things. Sometimes it even extends to buying something simply to get the contact info for the producer to source a related item.
4. Understand how you can best be your own self-editor on creative decisions
How fast do you make decisions? And when you're making a creative decision on your own, how do you validate them? Carla Sozzani says she makes decisions very quickly – in a matter of seconds – and if she hesitates on a creative decision, she takes it as a sign it's not the right decision.
5. Regularly wipe your creativity clean
Every August while Italians head to the beach, Sonzatti shutters 10 Corso Como for 10 days. During this period, everything is removed for cleaning and painting. This 10 day hiatus also imposes an important creative refresh and reimagining of the space.
I'm Taking Note
My creative style and aspirations are markedly different than Carla Sonzatti's, but I'm so excited to think about how I can incorporate what I learned from this article into my creative pursuits! – Mike Brown
Download the free ebook, "Taking the NO Out of InNOvation" to help you generate fantastic ideas! For an organizational innovation boost, contact The Brainzooming Group to help your team be more successful by rapidly expanding strategic options and creating innovative plans to efficiently implement. Email us at info@brainzooming.com or call us at 816-509-5320 to learn how we can deliver these benefits for you.