It's great to post the rules of brainstorming on the wall when you have a group assembled to use their collective creative thinking skills to come up with new ideas. Doing this is helpful as a reference point just in case anyone is unsure about encouraging wild ideas, the importance of not judging ideas right away, or the creative hazards of thinking too narrowly about possibilities group members might suggest.
And if you're going to put up the rules of brainstorming, you might as well go big!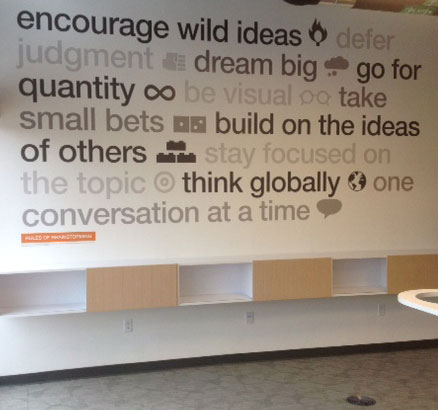 This installation, "Rules of Brainstorming," is featured in an Innovation Lab at the Henry W. Bloch School of Management on the campus of the University of Missouri Kansas City. It is a gift from Steelcase, Scott Rice, BNIM, and Moore, Ruble, Yudell Architects and Designers.

While I'd have loved to see "defer judgment" all on one line so you don't simply see "judgment" by itself and "take small bets" seems to move into convergent thinking (as opposed to the divergent thinking phase of brainstorming, the installation is an incredible addition to an already great space.
Applying Creative Thinking Skills from Across the Nation
I'm particularly excited to know we're going to use this Innovation Lab for a Brainzooming creative thinking session!
As part of the January 2015 Gigabit City Summit, we'll be leading communities from throughout the United States in exploring the social and economic impacts of gigabit internet availability, much as we did in Kansas City in 2011. At the Gigabit City Summit, we'll be sharing a variety of strategic and creative thinking tools the communities can use to envision the future in a more dynamic and collaborative way! – Mike Brown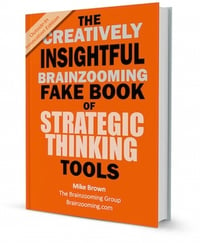 Are you making the best use of customer input and market insights to deliver innovation and growth? Creating successful, innovative new products and services has never been more dependent on tapping perspectives from outside your organization.
This new ebook features sixteen strategic thinking exercises to help you ideate, prioritize, and develop your best innovative growth ideas. Download this free, concise ebook to:
Identify your organization's innovation profile
Learn and rapidly deploy effective strategic thinking exercises to spur innovation
Incorporate crowd sourced perspectives into your innovation strategy in smart ways