There was a Brainzooming posse in Lawrence, Kansas on Saturday as Marianne Carr and I attended ConfabuLarryum, the Lawrence festival of creativity. In just its second year, Ben Smith's brainchild increased its attendance 4x to more than 5,000 adults and kids.
What a fantastic event celebrating creative thinking skills of all kinds!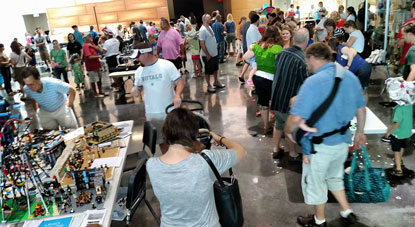 The only disappointment was I didn't get to spend any time with the incredible array of activities and demonstrations. With a noon time slot to speak, I stayed in the auditorium to see the presentations before mine, getting a read on the audience, the room, and what content would work most effectively.
I presented a mini-workshop on Busting Creativity Barriers. One of the audience questions from a fourth grade teacher was on how to help kids stop editing their creativity and new ideas for fear of being wrong.
My response was that's clearly a challenge in a school environment where we are grading kids on their academic performance and monitoring all their actions and behaviors for conformity to expectations. Talk about a recipe for teaching children to edit their creativity and curb their creative thinking skills! It takes a full-blown creative rebel to survive creatively in that environment. And that survival will likely be VERY rocky because a student putting up enough of a fight to hang on to their own creative thinking skills and instincts will be going dangerously against the grain.
How about establishing a grade-free zone to cultivate creative thinking skills?
My spontaneous idea and response to her question was to create a grade-free zone in the classroom. This would be a spot where children could go to experiment, imagine ideas, and explore their creative thinking skills without ANY grading or correction.
Thinking about it, the grade-free zone might be a physical location in the classroom, a condition (i.e., a certain day or days), a situation (i.e., a child could call for grade-free zone time to create), or maybe all three of these.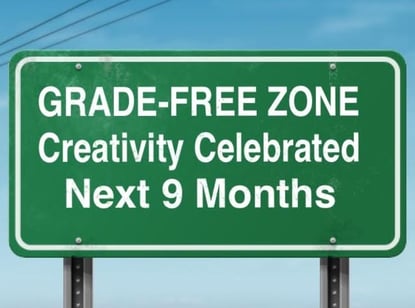 What else might need to be in place for a successful grade-free zone?
Those are some initial thoughts from someone who ISN'T a childhood educator; they are based, however, on how we try to create what are essentially grade-free zones inside creative thinking workshops. It would be interesting to see how my friends at the Boulder Journey School would address the question!
Two other thoughts emerged later:
Perhaps rather than being grade-free, the zone should be an all-A zone. That would be akin to conductor Benjamin Zander's statement that he only teaches A students.
Even though ConfabuLarryum WAS a grade free zone filled with all kinds of creative outlets, I heavily edited my workshop presentation before starting, inserting stories that weren't part of the presentation when I walked in the building and taking out a number of pieces.
I guess being grade-free is harder than it initially sounds.
What do you think of the idea, and how would you approach helping students to stop editing their own creativity? - Mike Brown
Download our FREE "Taking the No Out of InNOvation eBook to help you generate extreme creativity and ideas! For organizational innovation success, contact The Brainzooming Group to help your team be more successful by rapidly expanding strategic options and creating innovative growth strategies. Email us at info@brainzooming.com or call us at 816-509-5320
to learn how we can deliver these benefits for you.