I was in Boulder, CO last week for the Boulder Journey School Summer Conference. As more than one person asked me, "Why were you at an early childhood education conference?"
Fair question.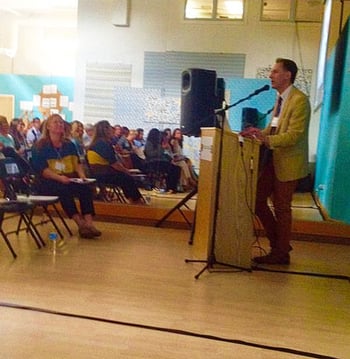 The short answer was the school's founder, Dr. Ellen Hall, and I serve together on the board of another non-profit, Nature Explore. Ellen Hall paved the way for the invitation to speak and attend both days of the conference.
The longer answer is, beyond speaking on creative thinking, it was a welcome change to be surrounded by people and an environment fostering in children the same types of creative thinking we try to instigate among adults in the business world.
And as expected, it was an incredible learning experience.
I'll share various creative thinking insights and images from the Boulder Journey School Summer conference this week; they are all related to the adult world of strategy, creativity, and innovation we cover.
Today, here are creative thinking quotes and comments that resonated and pushed my own thinking:
Creative Thinking Quotes Mentioned During Presentations
"You can't do a good job unless you're keen on it yourself." - quoting David Hawkins
"To be in dialogue means to accept transformation." - quoting Carlina Rinaldi, President of Reggio Children
This does a lot better job of conveying the whole "you have to fail to succeed" perspective than anything else I've seen on the topic.
"To listen is not to fit what we hear into what we already know, but rather to be poised for the possibilities of what we are about to come to know." - quoting Davies
Live Creative Thinking Quotes from Speakers
"I have a lot of learning to do, that's why I'm up here presenting today." - Jen Selbitschka, Studio Teacher
"You can't bring seventy-five people together and make a decision." - Andrea Sisbarro, School Director at Boulder Journey School
"You could look at turning over 41 interns every year as a disaster, or you can see it as a great opportunity to bring new learning into the school." - Alison Maher, Education Director at Boulder Journey School
"The best thing about dandelions is nobody cares if you pull them up." Another Teacher at the Boulder Journey School
"What are we working on together?" - Mary Jane Moran
Download our FREE "Taking the No Out of InNOvation eBook to help you generate extreme creativity and ideas! For organizational innovation success, contact The Brainzooming Group to help your team be more successful by rapidly expanding strategic options and creating innovative growth strategies. Email us at info@brainzooming.com or call us at 816-509-5320
to learn how we can deliver these benefits for you.