Today's creative thinking post is all about music.
While I don't write about it all that often, I love music. And I probably don't write about it so much because I spend so much less time focused on music than I used to do, back in the day when I was a DJ at the Brass Rail (pictured here) in college.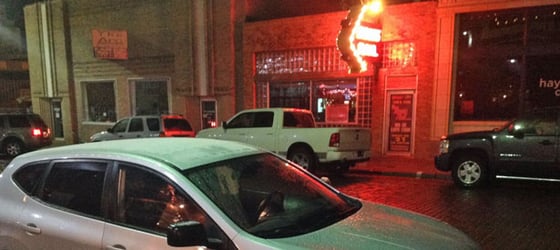 But for THIS day, here are several music videos (with stories) from Facebook friends I was quick to save when they showed up in my feed.
The first is seasonal. All of them are perennial. That's why these music videos are the centerpiece of today's creative thinking post.
Musical Glasses - Bach, Toccata and Fugue in D minor Diogo
Among the first songs I downloaded on iTunes when my wife bought me my first iPad MANY years ago, Bach's Toccata and Fugue in D minor was among the first. You may not be familiar with the name, but you'll know it from the first notes. It's the scary music song. And even on musical glasses, it's scary. And the fact it's on glasses instead of an orange, makes it's all the better. This version is via Facebook friend Sharon Corsaro.
The Beatles: A 5 Minute Drum Chronology - Kye Smith
This video comes via Michael Gelphman, the visionary behind the big-time Compute Midwest conference. Maybe of anyone I've met the past few years, Michael is the best example of taking his big idea and making a HUGE success of it. Amid everything he has going on, he shared this video the other day that's a remarkable collection of snippets of Beatles songs featuring Ringo's drumming style. It makes it clear that Ringo was REALLY the Best.
Lyle Lovett: NPR Music Tiny Desk Concert
I'm pretty sure my buddy Alex Greenwood originally shared this video of Lyle Lovett and his fiddle player doing an NPR concert. I love Lyle Lovett's Big Band. I love this video of Lyle Lovett as part of a duo. It was only when we saw Lyle Lovett with his medium-sized band that I was underwhelmed. I can't really begin to tell you how many times I've watched this video. It's strong from start to finish in a quirky, funny, musical kind of way.

All About That [Upright] Bass - Meghan Trainor Cover - Postmodern Jukebox ft. Kate Davis
This music video goes back a bit. It was shared by my Cleveland buddy Leslie Carruthers. I met Leslie at Content Marketing World at a music event appropriately enough. She was an inspiration for perhaps the last music-oriented blog post I wrote. This version of All About the Bass Leslie shared earlier this year is, like the Lyle Lovett video, a VERY FREQUENT destination for where I'm wasting time on Facebook.

The MODERN LOVERS "Roadrunner" 1972
This one showed up on Facebook via Paul Rupp. I haven't seen Paul since we were both a whole lot younger. But he was part of the contingent of underage patrons at the Brass Rail. Paul shared this video of Jonathan Richman's Roadrunner on Facebook for my birthday. Ironically, I was in Boston the very day he shared it, but never made around Route 128 by the power lines. If you've never heard Roadrunner, ENJOY! It was an every weekend Brass Rail fave!

Mike Brown
Download our FREE "Taking the No Out of InNOvation eBook to help you generate extreme creativity and ideas! For organizational innovation success, contact The Brainzooming Group to help your team be more successful by rapidly expanding strategic options and creating innovative growth strategies. Email us at info@brainzooming.com or call us at 816-509-5320 to learn how we can deliver these benefits for you.