Here's a new guest post by Woody Bendle as he looks around Kansas City for applications of a creative thinking exercise called SCAMPER. Similar to the Trait Transformation creative thinking exercise, SCAMPER helps you take a fresh look at your brand and all the things associated with it. Here's Woody's exploration of SCAMPER around Kansas City!
As I was preparing for an upcoming presentation on Customer Experience Innovation, I began to outline some of my favorite innovation / creativity thinking tools. One of my favorite innovation / brainstorming (or Brainzooming) tools is SCAMPER.
SCAMPER stands for:
Substitute - What can we substitute or what can be substituted?
Combine – What might be combined in a unique and relevant way?
Adapt – What could be adapted to accomplish something different?
Modify / Maximize / Minimize - What could be modified, maximized or minimized to create something new?
Put to another use – What do we have (or are we aware of) that we could put to a surprisingly different use?
Eliminate – Is there something that could be removed or eliminated entirely?
Reverse – Is there a way to do something opposite of what others are doing – or is there something that could be brought back?
SCAMPER is a really effective creative thinking exercise for helping you systematically think through creative and innovative solutions. And, once you are familiar with it, you'll actually begin thinking about the different products and services you encounter as possible outcomes from SCAMPER.
SCAMPER around KC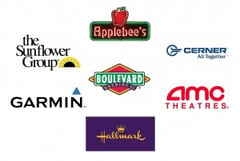 Here are a few examples of how local Kansas City businesses have implemented strategies that could come right from this creative thinking exercise.
Substitute
The Sunflower Group developed a business around the notion of substitution. Their associates are employed as a substitute for a grocery store's or a package goods company's employees to conduct in store sampling / taste testing and promotions.
Combine
Applebee's combined with Weight Watchers to create "endorsed" meals on their menu – complete with points.
Adapt
GARMIN – Adapted several of the technologies in their Forerunner 110 (timer, pace, distance and heart rate monitor).
Modify / Maximize / Minimize
Boulevard Brewing - Has employed a zero landfill policy, minimizing their impact on the environment.
Put to another use
Hallmark – Took the micro-recording capability from their audio greeting cards and created a line of audio narrated children's books. (You might want to have a couple tissues when you watch this video)
Eliminate
CERNER – Eliminated the conventional medical record keeping method (paper and folders) and replaced it with their software solution.
Reverse
AMC Theatres - Employed Reverse through their Dine-In Theatres by having theater employees bring food and beverages to their guests instead of having their guests go to the concession stand to pick up their own food.
How is SCAMPER being applied in your neck of the woods?
I could literally go on and on with many more examples of how local Kansas City companies have employed SCAMPER as part of their creative thinking in one way or another to innovate; but I'd rather hear from you!
Please share some examples from your neck of the woods that suggest how this creative thinking tool is being used with great success. - Woody Bendle
Download the free ebook, "Taking the NO Out of InNOvation" to help you generate fantastic creative thinking and ideas! For an organizational creativity boost, contact The Brainzooming Group to help your team be more successful by rapidly expanding strategic options and creating innovative plans to efficiently implement. Email us at info@brainzooming.com or call us at 816-509-5320 to learn how we can deliver these benefits for you.