This weekend, I didn't have the right crayons to get nearly as much work done as anticipated and hoped for before the weekend started.

Creative Skills and Crayons
What does it mean to not have the right crayons?
Remember as a kid how if you had a smaller box of crayons you might be missing the right color to make the picture you wanted to color?
Or maybe how the crayon color you wanted was broken and worn down? Or the coloring book wasn't fun or the big piece of paper to color wasn't right somehow?
That's what this weekend was like.
Now, in my now adult world, the creative skills and tools available to me weren't what the ones necessary to generate the creative ideas that could turn into creative output.
Too few connections, accomplishment, fresh creative tools, inspiration. Too little exercise, fun, prayer, spirituality, intimacy, motivation, peacefulness. Too much disappointment, fatigue, responsibility, indifference, anger, frustration, apprehension, anxiety, Word and PowerPoint. Too much stuck in one place with no opportunity to do something new.
But now, it's time to create an opportunity to apply my own creative skills formulas to me.
To call time out and count on the creativity being there when I need it later. To prioritize what really needs to be done, and what can slide into this week. It's time to see how to put the right crayons together from the broken pieces of crayons I have and move forward creatively. It's time to move on creatively and look for fulfillment in new ways.
That's what creative skills are all about in the adult world. – Mike Brown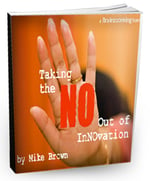 Download the free ebook, "Taking the NO Out of InNOvation" to help you generate fantastic creative thinking and ideas! For an organizational innovation success boost, contact The Brainzooming Group to help your team be more successful by rapidly expanding strategic options and creating innovative plans to efficiently implement. Email us at info@brainzooming.com or call us at 816-509-5320 to learn how we can deliver these benefits for you.