My natural inclination when it comes to business strategy is to identify what is MOST IMPORTANT and build everything around that. Tie the objectives, priorities, and strategies to a very tight focus for an organization. Mass the resources and the organization's attention on that single area and put everything toward implementing it successfully.
My most memorable example of this goes back to early in my career. There was a nearly month-long labor strike at the transportation company where I worked. During that time when we were laying off people on a weekly basis as the strike drug on, it was clear to everyone that the single focus for us as a marketing organization was to win back customers for the day we started our operation back up – whenever that might be. I inherited leadership of our department about a week into the strike, and we pointed EVERYONE toward understanding current customer sentiment and developing the plan to incent them to use our brand again even though we had let them down.
THAT was a singular focus.
Granted, it is SO MUCH EASIER to talk about a single, focused business strategy than it is to actually create one.
There always seem to be multiple important things or varied priorities among senior leaders or business units that do not line up in a neat and clean rank order. I'm sure you've experienced one of those "our three most important objectives" situations. Yes we have a priority; in fact, we have THREE priorities that are ALL EQUAL.
That's the MUCH MORE TYPICAL business strategy scenario.
When we started developing our varied extreme creativity questions and exercises to drive bolder business strategy, however, one of the approaches was to actively consider that an organization isn't going to make choices. It would deliberately and actively pursue multiple big strategies with all available resources.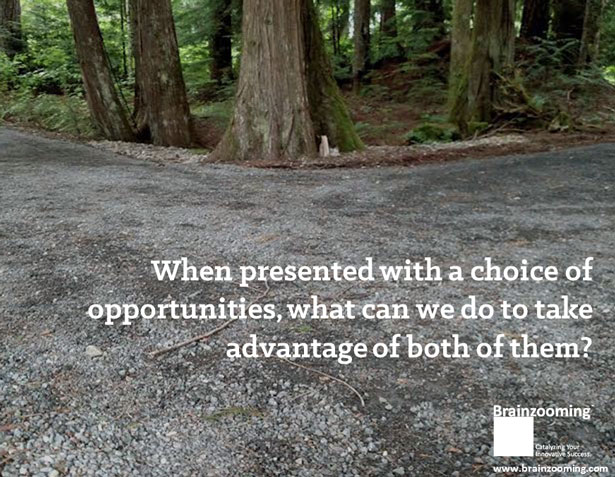 So instead of taking ONE business strategy path and wondering about the other, how about taking BOTH PATHS and doing more? What would the business strategy look like if you did it deliberately instead of by accident? – Mike Brown
Looking for a Successful Innovation Strategy to Grow Your Business?
Brainzooming Has an Answer!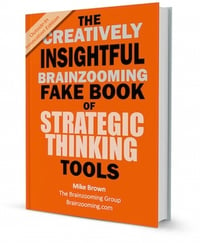 Business growth can depend on introducing new products and services that resonate more strongly with customers and deliver outstanding value compared to what's currently available.
Are you prepared to take better advantage of your brand's customer and market insights to generate innovative product ideas? The right combination of outside perspectives and productive strategic thinking exercises enables your brand to ideate, prioritize, and propel innovative growth.
Download this free, concise eBook to:
Identify your organization's innovation profile
Rapidly deploy effective strategic thinking exercises to spur innovation
Incorporate market-based perspectives into your innovation strategy in successful ways
[sc:Outside-In ]