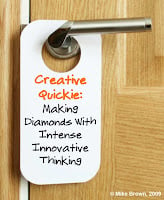 Keith Prather and I attended the October 21, 2009 Central Exchange CEO Series luncheon featuring Beryl Raff, Chairman and CEO of Helzberg Diamonds.
It was an interesting talk, especially when she went off script, discussing challenges in her career, how she developed a specialty in turnarounds, and the first meeting with her new "boss," Warren Buffett.
The first audience question was about what type of atmosphere she feels fosters innovation. Her answer was one where the status quo is challenged all the time and people "talk about ideas."
There's your creative quickie: see how often you're challenging the status quo today (vs. settling for what's okay or routine) and notice amid the time pressures of business, if you're avoiding "talking" about ideas.

Don't rush to "just do something." Invest time in strategic thinking and challenge your world as it exists today. - Mike Brown