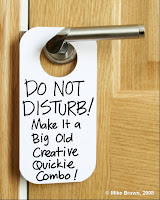 The jumbo size formula in fast food usually involves a combination of three or four menu items all in larger than average proportions.
Transfer the jumbo size formula to your creative efforts. The next time you have a large creative appetite, pick several of your best creative talents, combine them, and use them in a bigger way than you have before.
That's the way you Jumbo Size Your Creativity.
Want an example?
If you can draw, write, and are funny, getting the message across in your upcoming presentation could involve creating a cartoon to make your point in a bolder way!
That will be $4.79 at the next window. Please pull forward. - Mike Brown
Download the free ebook, "Taking the NO Out of InNOvation" to help you generate fantastic creative ideas! For an organizational creativity boost, contact The Brainzooming Group to help your team be more successful by rapidly expanding strategic options and creating innovative plans to efficiently implement. Email us at info@brainzooming.com or call us at 816-509-5320 to learn how we can deliver these benefits for you.