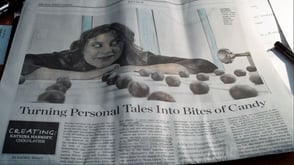 The Wall Street Journal featured a "Creating" profile in the Review section of Katrina Markoff, co-founder of Vosges Haut-Chocolat, a $30 million purveyor of unusually flavored chocolate truffles and other chocolate goodies (including a line of bacon and chocolate products for all the bacon-obsessed, social media fans).
The column includes five great reminders (and associated questions) about what a strong creative process can look like – no matter what creative medium you are employing:
1. Use a non-traditional creative medium
No need to be stuck using a traditional creative medium when there are opportunities to use another medium to accomplish a familiar creative expression. In the case of Katrina Markoff, she considers truffles as a medium to tell stories.
Question: How can you use a distinctive talent you have to accomplish a very different creative output?
2. Put your life into your creative work
Katrina Markoff looks to her travel and personal experiences as inspiration for the flavor pairings in her chocolate truffles. As the Wall Street Journal describes her inspirations, they sound much like the improv comedy starter: The suggestion of a person, place, or thing.
Question: In what ways are you working on your improvisation skills since they are so intertwined with creative pursuits?
3. Create combinations others have not or will not try
Vosges Haut-Chocolat is known for offering unusual, surprising combinations of ingredients with chocolate, including wasabi, olives, flowers, and a variety of types of chilies. Quite a bit more exotic than chocolate and peanut butter!
Question: How are you continually pushing yourself to develop your abilities to identify incredible mash-ups?
4. Creative output is one part inspiration and several parts cultivation
Once she has her initial creative inspiration, Katrina Markoff turns to research and further brainstorming. The benefit of these extra steps is the opportunity to look for new strategic connections between her inspiration and the possible ingredients she is envisioning.
Question: What is the most recent tool you learned to inspire and cultivate creativity?
5. Start experimenting and tinkering out of the limelight
After prioritizing potential ingredient combinations, Markoff enters her personal kitchen where she reports it typically takes "four to seven" attempts to land on the right flavor. She prefers working by herself so she can continue tinkering uninterrupted, even if that means staying up well into the night to do it.
Question: Do you have (or are you developing) multiple routines to spark your creativity?
Are these five elements part of your creative process?
If one or more of these don't find their way into your creative efforts, how does yours look different? – Mike Brown
Download the free ebook, "Taking the NO Out of InNOvation" to help you generate fantastic ideas! For an organizational creativity boost, contact The Brainzooming Group to help your team be more successful by rapidly expanding strategic options and creating innovative plans to efficiently implement. Email us at info@brainzooming.com or call us at 816-509-5320 to learn how we can deliver these benefits for you.