In its June 2012 issue, Fast Company singled out its list of The 100 Most Creative People in Business 2012. The list is an intriguing compilation of people and teams applying creativity globally in both expected (entertainment, gaming), and unexpected (kidney donations, insurance) fields.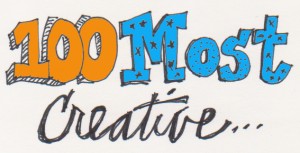 My take on the Fast Company 100 Most Creative People in Business List was to read the profiles for each of the creative people in business and capture 100 creative inspirations, ideas, lessons, and tips that stood out among the write-ups. The discipline of imposing the one creative inspiration limit presented an intriguing challenge. On some longer profiles, it wasn't always easy to pick a single creative idea. On other profiles, however, I was scraping to find a creative idea worth sharing.
In any event, the objective with presenting my list of 100 creative inspirations, idea, lessons, and tips is to provide another layer of content over the Fast Company most creative people list. Although the content here was inspired by the Fast Company list, they represent my distillations and take-aways from the list. Additionally, rather than an apparently arbitrary numerical list (which is reflected in the link to each underlying profile), I've categorized the creative ideas into categories:
Creative Strategy
Disruptive and Constraint-Based Thinking
Creative Thinking Perspectives
Creative Storytelling
Creative Process
Creative Strategy
Surround yourself with people who have contrasting thinking styles . . . then hold on. - Flavio Pripas & Renato Steinberg – Cofounders, Fashion.me (#54)
Success and determining which of your efforts will be successful are for your audience to decide. It's a numbers game, so launch and see which things will hit. - Julie Klausner – Comedy Writer (#59)
If people aren't buying you based on your talents, maybe it's because they don't how your values and goals fit with their aspirations. - Shara Senderoff – Cofounder, CEO, Intern Sushi (#63)
Start with your life problems and think through how to solve one of them if you want to make better apps (or maybe anything else). - Lee Linden – Cofounder and CEO, Karma (#67)
Really hone what you do strategically by only addressing the most important part of your customer base and quit focusing on everyone else. - Sarah Robb O'Hagan – President, Gatorade (#23)
What opportunities exist for your organization to be a creative magnet to your audiences? – Marci Harris – Founder, Popvox (#13)
To build connections online, start with asking questions and offering your knowledge to aid others. - Claire Diaz-Ortiz – Manager of Social Innovation, Twitter (#21)
Try presenting an all-or-nothing creative vision and strategy. No room for compromise. Take it or leave it, but don't tweak it. - Celestine Maddy – Founder, Wilder (#99)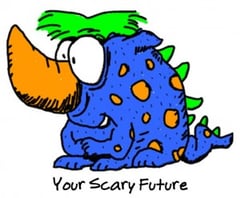 To make your creative pitch, play out the negative things that would happen to the potential client if they don't follow your recommendation and embrace your creativity. - Laura Mather – Cofounder / Chief Strategy Officer, Silver Tail Systems (#16)
Even though it's easier to sponsor another organization's event, create a sponsorship property specifically for your organization. - Abanti Sankaranarayanan – Deputy Manager Director for India, Diageo (#37)
"I don't ever want to represent anybody. It's my duty to enlighten people." - Neil Degrasse Tyson – Host, PBS's Cosmos and Radio Show StarTalk (#49)
When volunteers are able to use their natural talents and expertise (as opposed to donating time for something they're not good at doing), you're more likely to retain them. - Rachel Chong – Founder, CEO, Catchafire (#56)
Have a review board comprised entirely of your target market – even if that's a group of grade school kids – to see if what you're planning resonates with them. - Olajide Williams - Founder, President, Hip Hop Public Health (#65)
When you're getting started, be prepared to chase after possibilities and test cases you hadn't imagined. -Glenn Rink – Founder, AbTech Industries (#71)
If you had one thousand "followers, friends, and fans that meant something," that's better than 10 million unengaged people. (Really? In pure numbers, to get the same amount of participation from 100% of one thousand people, you'd only need 1/100 of 1% participation from 10 million people.) - Jared Leto – Entrepreneur, Musician (#72)
Borrow (complete) strong design contexts from outside your industry and apply them to what you do to look different. (Example: Applying Heathrow airport signage to mobile phone interfaces.) - Jeff Fong – Design Lead for Windows Phone, Microsoft (#81)
Unlikely customers will stretch your organization's creativity in finding new ways to solve their problems. -Hannah Choi Granade – President, Advantix Systems U.S.A. (#73)
Give your team an assignment from a demanding fictional client to stretch its creativity beyond the marketplace's expectations and extract your "creative aspirations from (y)our finances." - Mike Simonian, Maaike Evers – Designers, Mike and Maaike (#76)
"Seventy percent of an experience should be what consumers know and thirty percent should be surprise and delight." - Rachel Shechtman – Founder, Story (#80)
What are you doing to make "eye contact" with potential customers virtually? And what are you doing to engage them (with their interests in mind) when they get really close? - Sam Mogannam – Owner, Bi-Rite Market (#86)
Find ways for your best customers to share their expertise and hacks with your new customers. - Cindy Au – Community Director, Kickstarter (#82)
Head directly to where your audience is. Do not wait around at your online site. Share your content where they are and get something started. - Vivi Zigler – President, Digital Entertainment, NBC Universal (#89)
Manufacture greater scarcity in the experience you create over time to push more robust intensity, deeper interaction, and the possibility of greater participant leadership in shaping the experience. - Jerri Chou – Founder, The Feast Social Innovation Conference (#94)
What would your design process look like if the client specified every detail they wanted? Do you think that's a level of involvement your clients are really seeking? - Edwin Neo – Founding Partner, Ed Et Al Shoemakers (#98)
Celebrate customers using your product in incredible ways. Make them the creative heroes of your brand. -Sally Grimes – Global Vice President, Sharpie (#100)
Whether in traditional or new media, people spend time with and pass-on content they expect friends will enjoy. - Ben Smith – Editor, Buzzfeed (#29)
Great advice from Magic Johnson: "It's okay to be famous and be well liked, but you got to start owning things." - Shaq – C'mon. It's Shaq. He doesn't need a title. (#74)

When trying to signal your commitment to the market, there's no short cut to the time advantage of starting now and sticking with it. - Lourenço Bustani – Founder, Brazil CEO, Mandalah (#48)
Celebrity still counts for something so find a way to borrow the authority of celebrities to gain attention and action. - Yael Cohen, Founder – F*ck Cancer (#38)
Look and create five years ahead. What creative inputs will be important then? - Carla Schmitzberger – President, Havalanas (#97)
Look for games as the high impact form of artistic expression for decades to come. - Chelsea Howe – Director of Design, SuperBetter Labs (#41)
Disruptive and Constraint-Based Thinking
What's your creative imperative – the one thing that HAS to be part of your creative effort? - Leslie Berland – SVP, Digital Partnerships and development, American Express (#6)
What in your past is like what you're doing today? What did you learn that applies to what you're doing now? - Steven Zeitels – Director, MA General Hospital's Center for Laryngeal Surgery and Voice Rehabilitation (#14)
When evaluating data or an idea, challenge what's being presented from the completely opposite point of view to determine how strong the strategic thinking is. - Rebecca Van Duck – Head of Consumer Marketing, Facebook (#2)
What are multiple ways you can create more strategic connections than anyone else does? – Garet Hil – Founder, National Kidney Registry (#9)
Compile and share information to connect separate audiences who don't have any basis to talk to each other right now. - Ma Jun, Director – Institute of Public and Environmental Affairs (#1)
Take on creative initiatives that allow you to collect massive amounts of data you can mine to direct your own organization or sell to others. For Foursquare, it's about connecting information on people, places, and time-specific actions. - Alex Rainert – Head of Product, Foursquare (#77)
How can you substitute easier processes for the hard parts your audience deals with every day? - Ben Horowitz – Cofounder, Andreesen Horowitz (#8)
For cool ideas and design to be successful, they can't be embarrassing to wear or use. - Steve Lee – Product Management Director, Google [X] (#20)
If you're facing creative detractors, how can you create creative baby steps they'll find more acceptable for getting started? - Maelle Gavet – CEO, Ozon Holdings (#10)
Innovate with only things that already exist in your business. Put together new combinations from pre-existing elements. - Adam Brotman – Chief Digital Officer, Starbucks (#3)
Invite people to exercise their creative talents . . . maybe no one has ever asked them about creativity before? - Rosario Dawson & Maria Teresa Kumar – Founders, VotoLatino (#12)
Find a compelling motivation (and the associated process) to allow customers to commit to purchases earlier than they might now to make it practical to buy things that would never make it to market on spec. -Aslaug Magnusdottir – Cofounder, CEO, Moda Operandi (#78)
Apply design and pleasing aesthetic principles to the most necessary, thankless, and joyless tasks humans have to do to raise the creative energy from them. - Jessica Alba – Cofounder, The Honest Company (#17)
Consider every interaction as a performance and allow the audience to participate, shape the outcome, and leave with the results. - Björk – Musician (#36)
Creative Thinking Perspectives

Design isn't a liner process, so incorporatingstrategic thinking is vital to successfully handling a problem that doesn't have a nice, neat structure. -Matthew Schmidt – Assistant Professor of Political Science, School of Advanced Military Studies (#22)
Be okay when the first examples of your creative work aren't what you expected. - Wes Anderson – Director, Moonrise Kingdom (#28)
Go do the equivalent of whatever "biking around the neighborhood" would be in your market and soak up the inspiration from a different perspective than you have before. – Marcus Samuelsson – Chef, Owner, Red Rooster (#90)
Throw out how you usually categorize things and come up with a completely different categorization approach. - Ron Johnson – CEO, JCPenney (#4)
Defy the creative rules of your world while still delivering a cohesive creative whole. - Kin Ying Lee – Creative Director, Madewell (#31)
Don't be afraid to call someone's bluff and create what they say you can't or shouldn't do. - Marvin Ammori – Lawyer, The Ammori Group (#32)
What incredibly worthwhile activities are hiding behind the "scary monsters" in your world? – Tim Schafer – Founder, Double Fine Productions (#39)
Explicitly pick a time or point in your life and use it as a reference to solve creative or design problems faced now. - Ken Parks – Chief Content Office, Spotify (#33)
Create so that what you're creating is "stunning" to at least one of the senses. - Diébédo Francis Kéré – Architect, Kéré Architecture (#34)
What would an experience look like that is destined to "disturb the universe"? – Ross Martin – Executive VP, MTV Scratch (#46)
How can you use your creativity to add more serenity to your customers' lives? - Leah Busque – Founder, TaskRabbit (#42)
What would you change about your product to make it more inviting to people? – Deborah Borda – CEO, Los Angeles Philharmonic (#44)
How would Sesame Street (or Romper Room, if you're old enough to remember it) teach new things to people who think they're too old to learn new things? – Bruktawit Tigabu – Founder, Director, Whiz Kids Workshop (#45)
Change the natural order that things happen to spark innovative ideas, i.e. What if you focused a picture after it's taken? - Ren Ng – Founder, CEO, Lytro (#70)
Get out of the office or conference room and go look around at people, places, and things both relevant and tangential to your creative objective. – Rick Barrack – Chief Creative Officer, CBX (#79)
Not everyone that makes the "Fast Company 100 Most Creative People in Business" list has a strong enough profile to yield even one creative inspiration of substance. – Chris Milk – Director (#83)
What are you doing today to make your product, business, or market wildly controversial? Are you doing enough? - Rufus Griscom – Cofounder, General Manager, Babble Media (#88)
Think Africa. "There's something really exciting about the word . . . It evokes an emotion in everyone." - Tal Dehtiar – Founder, Oliberte Footwear (#96)
Who would you fire if you fired co-workers or clients that aren't good for your business? - Jimmy Smith – Chairman, CEO, Chief Creative Officer, Amusement Park Entertainment (#43)
Creative Storytelling
What's your story? Write your story. Then share it. Over and over. - Bradford Shellhammer – Cofounder, Chief Creative Officer, Fab.com (#50)
Make stories. Tie together important touch points and create stories from them. - Steve Porter – Viral Video Producer (#60)
When you develop your own material you can create it in the way you want, with the people you admire, and end up with creative output that works for you. - Aziz Ansari – Comedian, Actor, "Parks and Rec" (#87)
Curation isn't exclusively selection. It's about playing out a perspective that connects to the audience. -Maria Popova – Editor, Brainpickings.org (#51)
In conveying information (whether infographics or not), start with analysis, followed by determining the size and breadth of the insights, and finish with making it accessible. - Eddie Opara – Partner, Pentagram (#52)
Introduce new content to your audience every day wrapped in great creative storytelling with strong characters, plot twists, surprising resolutions and a hint at what happens next. - Andrew Wilson – Executive Vice President, EA Sports (#40)
In what ways does every piece of new content you create build on your amazing story? - Jeremy Heimans – Founder, Purpose (#11)
Dress the creative part. It's your obligation to wear jeans if it allows others to see you in the proper light. -Cyrus Massoumi – Cofounder, ZocDoc (#57)
Creative Process Tips
It's harder to sustain your creativity than it is to work to get your creative break. Focus on only doing what counts to make or keep your creative break. Don't let yourself become distracted. - Ceelo Green – Entertainer (#5)
You can't sit still and expect ideas will just pop out of your head. Go do something! - Elvis Chau – Executive Creative Director, JWT Shanghai (#84)
How much nonsense stuff are you doing? Is it good nonsense (that spurs creativity) or bad nonsense (it saps creativity)? - Andrew Yang – Founder, Venture for America (#27)
If you're the creative force in your organization can you afford to personally "touch" everything your organization produces? Can you afford not to? -Pamela Love – Founder, Pamela Lover N.Y.C. (#93)
Make every square inch of your work space creative and fill it with people who have both the creative and technical talents to create through your entire process. - Tony Haile – CEO, Chartbeat (#64)
Hold a weekly "Inspiration Friday," event to share anything that's been a creative inspiration in the past 7 days. - Neil Blumenthal – Confounder, Warby Parker (#92)
Try a "walking meeting" to talk and walk and solve. - Andrew Hsu – Founder, Airy Labs (#68)
Spit out as many ideas as fast as you can to get them out and captured. Then think about the connections and context among them. - Greg Gunn – Entrepreneur in Residence, City Light Central (#85)
Take an experimental view and put together unconnected things to find the strategic connections. -Masashi Kawamura – Cofounder, Creative Director, Party (#47)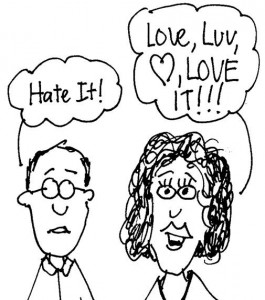 When you're in a partnership, one person's passion for an idea or approach trumps the other's reticence. - Anand Rajaraman & Venky Harinarayan – Coheads, Walmart Labs (#53)
When you're creating a fantasy world, there still should be a solid internal logic to it. - Thomas Tull – Founder, Chairman, CEO, Legendary Entertainment (#55)
Share a starting idea or piece of creative work with the crowd, and let the crowd edit, change, or rank it to create the final version. - Roy Price – Director, Amazon Studios (#15)
Invest more time in the visualization of whatever you do or create. – Miriah Meyer- Computer Scientist, University of Utah (#24)
Every creative effort has to incorporate time to consider its aesthetics. - Janet Iwasa – Molecular Animator, Harvard University (#25)
If you have different strategic efforts focused on the same creative goal that are difficult to compare, come up with a new success metric that works for both. - Stefan Olander – VP, Digital Sport, Nike (#7)
If you're addressing multiple audiences and can't play creative favorites among them, create a prototypical audience member who is both everyone and no one at the same time. - Kibwe Tavares – Cofounder, Factor Fifteen (#91)
Turn teaching into an experience of a class creating something together. - Michael Karnjanaprakorn – Founder, Skillshare (#18)
When education is the goal, contact and interaction is a fundamental aspect of the process. – Anka Mulder – President, OpenCourseWare Consortium (#19)
If you don't want to seem abrupt to your audience, signal what you're planning to do before you do it. -Leila Takayama – Research Scientist, Willow Garage (#30)
When signaling change, physically destroy a representation of the attitudes that are getting in the way (i.e., put negative culture characteristics on beer bottles and smash them). - Jeff Charney – CMO, Progressive Insurance (#35)
Audiences are more accepting of new content being delivered without as much polish, allowing you more room for trial, error, and learning. - T.J. Miller – Actor, Comedian (#58)
Personal relevancy and engagement drive not only why people open things online, but also why people want to interact with anything. - Ron J. Williams – CEO, Cofounder, Knodes (#62)
Invest more of your creative time and energy on creating incredible transitions in your work. - Danny Trinh – Designer, Path (#66)
Maybe literacy in the Arab world is bad because of bad typefaces. Great reminder to keep asking, "Why else could this be happening?" until you get to very surprising answers. - Nadine Chahine – Type Designer, Linotype and Monotype Imaging (#69)
When thinking about creative executions for mobile applications, strip things down to their simplest, tiniest forms. - Ethan Marcotte – Freelance Web Designed (#75)
When someone's pushed to the breaking point in a process you discover what they REALLY believe vs. what they're doing simply it seems like the right thing to do. - Carrie Brownstein – Writer, Actor, Portlandia (#95)
If there's a problem with even one part of your creative output, there's a problem with all of your creative output. - Robin Guenther – Principal, Perkins + Will (#61)
When there's a problem, look at the things that are still working and rewind them until everything seems to function in an expected way. Then restart. - Nina Tandon – Research Scientist, Columbia University (#26) - Mike Brown
If you're facing a challenging organizational situation and are struggling to maintain forward progress because of it, The Brainzooming Group can provide a strategic sounding-board for you. We will apply our strategic thinking and implementation tools on a one-on-one basis to help you create greater organizational success. Email us at info@brainzooming.com or call 816-509-5320 to learn how we can help you figure out how to work around your organizational challenges.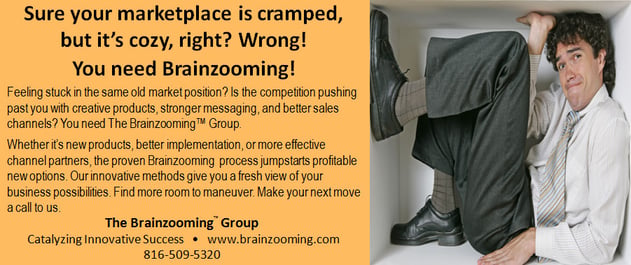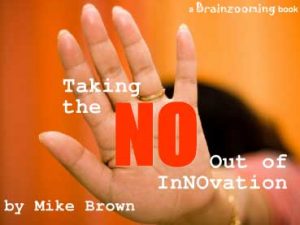 Download the free ebook, "Taking the NO Out of InNOvation" to help you generate fantastic new ideas! For an organizational creativity boost, contact The Brainzooming Group to help your team be more successful by rapidly expanding strategic options and creating innovative plans to efficiently implement. Email us at info@brainzooming.com or call us at 816-509-5320 to learn how we can deliver these innovation benefits for you.