I found this picture while cleaning off my iPad. The notepad with the message, "Leave a Trail of Genius," was from a meeting at a Marriott in Jackson, MS.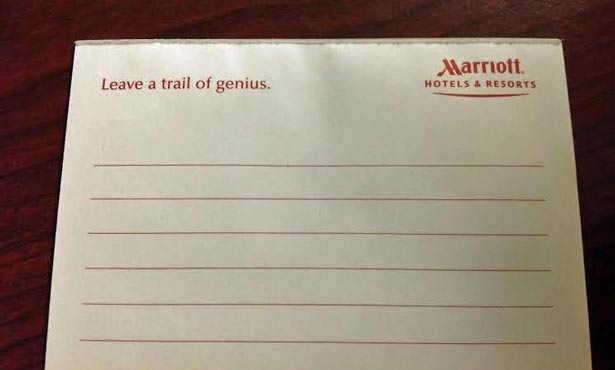 When it comes to creating strategic impact, what CAN you do to leave a trail of genius?
That doesn't have to mean you have to be a genius, however. It simply means you have been creating strategic impact by bringing out the genius in others.
26 Ways to Leave a Trail of Genius
So what are you doing to leave a trail of genius wherever you interact?
Encouraging people to use their distinctive talents to express their ideas.
Teaching people things that took you a long time to learn.
Asking questions of others that lead them to discover new ideas.
Being able to listen to others with as much skill as you display when doling out advice to them.
Encouraging others by reminding them of past successes.
Seeing potential in others they don't even realize.
Knowing exactly when to push and when to let up.
Introducing big possibilities without specifying all the answers for how to accomplish them.
Bringing excitement to unexciting situations.
Seeing new possibilities where others only see the status quo.
Assembling the right team for the moment.
Challenging what's expected and expecting the challenges you'll receive in return.
Not worrying about being understood.
Painting a compelling vision that stretches everyone.
Creating things people haven't even imagined before.
Getting everyone focused on what matters.
Experimenting all the time.
Cultivating enough mystery to keep everyone intrigued and guessing.
Borrowing ideas from other places that are new to what you do.
Knowing how long to repeat what is working before you suddenly change it.
Giving others the time and preparation to come along and be ready to perform when they need to perform.
Laughing at authority figures that believe they matter much more than they really do.
Trying for something bigger every time.
Never learning anything from your mistakes that would make you fearful of making future mistakes.
Always letting other people shine by giving them the opportunities and stages on which to perform.
Cultivating just enough of the myth behind all the genius moments you leave on the trail.
That's a start at a list for creating strategic impact. What do you do to leave a trail of genius behind you? – Mike Brown
Download our FREE "Taking the No Out of InNOvation eBook to help you generate extreme creativity and ideas! For organizational innovation success, contact The Brainzooming Group to help your team be more successful by rapidly expanding strategic options and creating innovative growth strategies. Email us at info@brainzooming.com or call us at 816-509-5320
to learn how we can deliver these benefits for you.