Today's post is inspired by seeing Extreme Makeover: Home Edition reruns on the TV at the gym since I don't see the show regularly. Each member of the Extreme Makeover: Home Edition team was listed with both a functional project role (i.e., carpentry, landscaping, interiors, etc.), AND what I'd characterize as a creativity-oriented role: Big Ideas, Design, Glamour, Planning, etc. What a great creative idea that's ripe for stealing and adapting to turn a business project into an Extreme Creativity Makeover.
An Extreme Creativity Makeover Project Team
Next time you have a project team where everyone receives a traditional functional responsibility, assign Extreme Creativity Makeover roles to each person, too. These could include creative responsibilities for:
Outrageous Ideameister
Challenger of What We Think
Minister of Scare the S#!t Out of Us Possibilities
The King/Queen of Style
Finder of Fun Times
Dramatic Flair-anista
Extreme Creativity Maven
Use these creative responsibilities or come up with others.
Putting the Idea Into Action
Here's one suggestion – don't assign individuals the creative roles you'd typically associate with each of them.
Dole out the Extreme Creativity Makeover roles to genuinely stretch each individual and force them to look at the project, your organization, and your customers in extreme new ways. If someone feels uncomfortable with an assigned creative role, remind the team that everybody's likely uncomfortable, and all the Extreme Creativity Makeover roles will be rotated (or maybe created anew) on the next project.
Have some fun with this different way to push your project team to reach for more creative ideas, and let us know what new creative results you see! - Mike Brown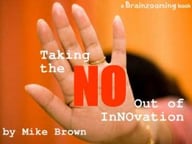 Download the free ebook, "Taking the NO Out of InNOvation" for help on how to be more creative! For an organizational boost, contact The Brainzooming Group to help your team be more successful by rapidly expanding strategic options and creating innovative plans to efficiently implement. Email us at brainzooming@gmail.com or call us at 816-509-5320 to learn how we can deliver these benefits for you.