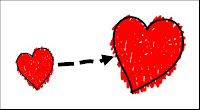 In part 2 of using relationship advice columnists for the Change Your Character exercise, here are the recommendations they'd offer for strengthening & maintaining relationships. Once again, identify 3 ideas for each of these pieces of advice that can be applied to improving your customer relationships.
Be friends.
Make sure that there's good chemistry.
Set realistic expectations.
Make sure rules and boundaries are understood.
Be willing and open to communication.
Listen carefully to each other.
Stay connected to each other.
Take a class or do other things together.
Do the simple things.
Celebrate each other.
Next Wednesday, the advice columnists will wrap up by helping fix some problem relationships.
Check out a compilation of "Change Your Character" creative thinking exercises and information on its use. – Mike Brown
The Brainzooming Group helps make smart organizations more successful by rapidly expanding their strategic options and creating innovative plans they can efficiently implement. Email us at info@brainzooming.com or call us at 816-509-5320 to learn how we can help you enhance your strategy and implementation efforts.