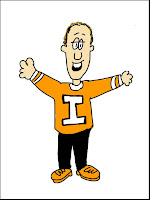 It can be daunting to build excitement within a team that's faced with maddening business challenges. Fortunately, if you face such a situation, you can delegate your duty to a cheerleading squad to help you out in the ways that only a cheerleader can by:
Exhibiting a winning spirit
Being a great team member and leader
Going to camps & clinics to improve their performance
Dressing in team colors
Inviting people to join with them in the cheers
Focusing on motivating others – both the team and the audience
Smiling all the time
Using a variety of talents to perform the cheers
Performing catchy, easy to remember cheers
Cheering for the team, no matter what
Having cheers suited to specific situations
Including a mascot as part of the squad
Being active during the game and during time outs
O – K.
For each idea above,
Gimme three ways,
The squad will cheer your team up,
On any tough day!
YEAH!!!
Check out a compilation of "Change Your Character" creative thinking exercises and information on its use. – Mike Brown
The Brainzooming Group helps make smart organizations more successful by rapidly expanding their strategic options and creating innovative plans they can efficiently implement. Email us at info@brainzooming.com or call us at 816-509-5320 to learn how we can help you enhance your strategy and implementation efforts.