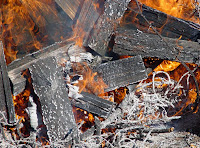 The phrase "fighting fires" gets thrown around pretty casually in business. For real fire fighters, however, it's a highly skilled, dangerous endeavor focused on both prevention and ensuring public safety amid life threatening fires.
In this week's Change Your Character exercise, let's see what fire fighters can teach us about stopping the non life-threatening challenges we face in business; brainstorm 3 potential ideas for each of the fire fighting approaches listed below:
FIRE PREVENTION
Performing community outreach & education on fire prevention
Training with real fire situations
Inspecting buildings to ensure susceptibility to fire is reduced
Having a special number for people to report problems
DURING A FIRE
Getting to the scene of the fire quickly
Bringing specialized equipment and proper tools with them
Using resources at the scene
First finding the fire's origin
Identifying potential risks
Rescuing people in danger / harm's way
Locating casualties / people injured & providing assistance
Analyzing the fire for potential future trouble spots
Removing the fire's source of fuel
Addressing self-preservation
Check out a compilation of "Change Your Character" creative thinking exercises and information on its use. – Mike Brown
The Brainzooming Group helps make smart organizations more successful by rapidly expanding their strategic options and creating innovative plans they can efficiently implement. Email us at info@brainzooming.com or call us at 816-509-5320 to learn how we can help you enhance your strategy and implementation efforts.