Jennifer Spencer of The Spencer Group, a marketing recruiter in Kansas City shared her perspectives, insights, and engaging wit with the Freelance Exchange of Kansas City's June meeting.
While Jennifer was specifically addressing Kansas City freelancers on ways to better position and sell themselves, her career lessons extended beyond geography and career path. Here are valuable career lessons, paraquotes, and audience reactions from Jennifer's talk.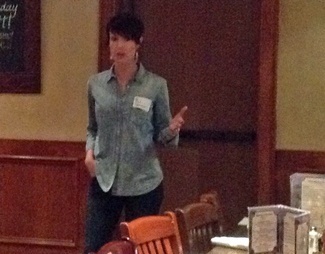 Building Awareness about YOU
People won't call or hire you if no one knows who you are. Always have a business card with you. It's not THAT old school. Does anybody bump a phone . . . really? Work samples are important, however, THEY HAVE TO BE ONLINE (JENNIFER'S CAPS).
If you're already in a full-time job and aren't known within the senior levels of your company, you're a sitting duck for a layoff. Make sure you're building awareness of you and your contributions - no matter what.
Hang out around digital incubators because if these companies get funding, they will need to grow and support require from people outside the company.
Think Global, Behave Yourself Local
With the advent of online options, you could be competing for your job with people globally, especially if it's an area employers see as a potential for outsourcing. Do you know what the global market for what you do looks like? Even though the market may be global, in the Midwest especially, you don't want to get a bad reputation because it will spread.
Come in and Deliver
Companies want people to come in and quickly make their lives easier. Especially early in your career, be smart about how you introduce new ideas that could be perceived as scope creep. Unless you're brought in as a turnaround person, your first day on the job isn't the time to solve all the company's ills. Solidly contribute and look for opportunities later to deliver more completely and creatively
Just Get 'Er Done
Project management is the in vogue role currently. You may be expected to take ideas from concept to execution. You need a foot in both the offline AND online words. If you do and you're further into your career, you can really use your experience to your advantage.
The Paraquotable Jennifer Spencer
"Find out what you're good at and own it."
"Own your awkwardness when you're out there networking. Making fun of yourself is quite endearing."
"You HAVE TO LOOK OUT FOR YOURSELF." (My CAPS)
"People find work in the darndest places."
"Hold your best for last. Sacrifice a few ideas upfront that you are willing to see sacrificed."
For What It's Worth, Freelancers
Hourly rates are all over the board for creative freelancers; it really, really, really depends. You have to keep a sense of what the market and going rate is for your services. Be prepared to negotiate when you're going in as a freelancer to try to secure a project. You have to be willing (and getting better) at negotiating.
The limbo of rate negotiations comes down to this question, "How low should you go?" Go in with a higher rate early when they love you. Don't go to the rock bottom ever, or even just too low when you start negotiating
You can't be scared to negotiate. Believe in yourself and what you're worth. Raise your rates as you add experience and can deliver more value. Consider creating a menu of prices for basic vs. more conceptual, strategic work. Don't work for people who come back at you with stupid, ridiculous rates. It won't get any better later.
Prepare in Good Times for Challenging Times
You have to manage cash flow in good times to be ready for bad times. Try holding back 50% of your current income for challenging times.
You also need to stay relevant and on-trend to prepare for downturns in the economy. Staying relevant may push you out of your comfort zone; you'll have to get out from behind the computer. It's vital to network out of your typical circles with people who are in the same careers as you are. You'll stand out more effectively if you're networking where people like you ain't (my grammar there).
Career Lessons Galore!
As you can tell Jennifer Spencer shared so many fantastic career lessons. Her talk will be a hard one for the next presenter to follow! And that happens to be . . . me. I'll be talking at the July lunch on a topic Jennifer chose after her talk: Digital Self-Promotion. Now to make THAT as funny and engaging as Jennifer was!
Now to make THAT as funny and engaging as Jennifer Spencer was! – Mike Brown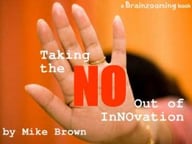 Download the free ebook, "Taking the NO Out of InNOvation" to help you generate fantastic creative thinking and ideas! For an organizational innovation success boost, contact The Brainzooming Group to help your team be more successful by rapidly expanding strategic options and creating innovative plans to efficiently implement. Email us at info@brainzooming.com or call us at 816-509-5320 to learn how we can deliver these benefits for you.