This was purely random, but beyond Monday's post on career challenges, today's Brainzooming post ALSO addresses career change.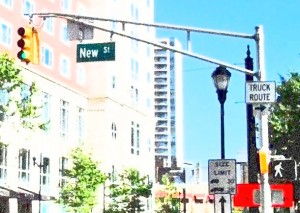 I was talking with a friend in the midst of a big mid-career change, leaving a lifelong, non-traditional, essentially entrepreneurial profession for various reasons. His goal as a mid-career professional is to take very relevant experiences related to his former profession and turn them into a unique role that COULD fit into a corporation or some type of marketing / advertising agency.
The concept he has created for why he makes sense in this type of role held together for me as he described it.
His case focuses on being so multi-dimensional through his varied experience that he becomes highly billable on many types of client projects (in an agency world) or can help reduce outside provider costs (for a corporation of some size).
I was originally able to offer only a couple of people he should talk with for networking when we talked. Hours later, however, I realized other career tips for him to consider.
4 Career Tips for Making a Career Change as a Mid-Career Professional
As with Monday's career challenges post, the four career tips here could be applicable to others too. That is especially true for any mid-career professional (i.e., with 15 or more years of experience in one profession) trying to make a big mid-career career switch:
1. Forget leading with a traditional resume as a mid-career professional
With a big mid-career career change, a traditional resume isn't likely to help all that much in getting your foot in the door (in my opinion). Even converting from a chronological resume to a skills-based resume will simply beg a lot of questions for a mid-career professional seeking a career re-direction. That's why it's so smart to create a concept for how you contribute. Your first step in bringing your concept to life is devising an advertising agency-oriented pitch about you, the convertibility of your experience, and how you will bring your concept to life. You goal is to "stage" your concept to sell you, just as real estate agents stage houses to sell them.
2. Go beyond staging and turn your career change concept into reality
If at all possible, figure out how you can actually make your concept completely tangible. For my friend, there are social media-related opportunities to implement his concept in ways that feature his talents and demonstrate he really can fill all the roles he's proposing. Far better to show that at least elements of your concept actually are working rather than just talking about it. Creating a concept demo (along with the math to back up the business case) can help a decision maker make a positive decision about you.
3. Target non-traditional organizations
For someone in their mid-career phase, making a big successful move won't happen with a company that has a cookie cutter view of HR, staffing, and job descriptions. That means you have to find a company that looks at its people and its business with a decidedly different world view. One quick test about the right organization? If they don't know what to do when you say you want to do a pitch presentation for them as part of any interview, they AREN'T the right organization for you.
4. Target senior executives for your pitch
A typical HR manager isn't going to make the case for a non-traditional hire. A typical HR manager is looking to fill a pre-existing box on an org chart with a candidate who presents the least risk. For that matter, most hiring managers are trying to do the same. As a mid-career professional with a concept and seeking a career change, you should be networking to senior executives who can look beyond the traditional way of hiring people and then do something about it.
If you're a mid-career professional who has made a successful career change, what career tips do you have?
I'm asking for your perspectives on career tips to help my friend.
Admittedly, I had one job for most of my career, so it's not like I was getting a lot of experience selling myself into new jobs. As a result, my career tips are more from a hiring manager than a job seeker perspective. So if you've made (or helped someone make) a big career change as a mid-career professional, what are your lessons learned? - Mike Brown
Download the free ebook, "Taking the NO Out of InNOvation" to help you generate fantastic new ideas! For an organizational creativity boost, contact The Brainzooming Group to help your team be more successful by rapidly expanding strategic options and creating innovative plans to efficiently implement. Email us at info@brainzooming.com or call us at 816-509-5320 to learn how we can deliver these innovation benefits for you.