Wednesday afternoon marked Day 1 of the Business Marketing Association Unleash Conference. Rather than playing back presentations point-by-point, here are some summary idea starters from the afternoon on innovation, social media, and how speakers publicly feed their egos:
Get On With It - For all of you who feel like you ne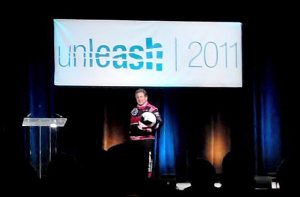 ed to have everything about an idea proven out before you share it, here's a fantastic quote shared by Josh Bernoff of Forrester shared this great comment from Barry Judge, CMO of Best Buy: "Half-baked ideas allow people to give you feedback."
Not All Content Has To Be Pretty - "I don't care if it's on video or if it's on napkins. Good content is good content." Al Maag, CMO of Avnet and new BMA Chairperson
An Amazing Statistic – Josh Bernoff reported that people expressing opinions on products and services create 500 billion impressions annually. He reported this is equal to 25% of annual online purchased ad impressions. In business-to-business, 1.2% of the 176 million people with online accounts generate the content creating 80% of these impressions.
New "A" Word – Based on my sponsorship marketing background, I use the term "activation" to describe the marketing efforts vital to maximizing the value of a social media strategy's implementation. Among one of his acronyms, Josh Bernoff used another "A" word to describe the phenomenon: Amplify. The implication is the same – to get attention you want to amplify the impact of your social media implementation effort.
Interesting Potential Blog Post – Ways to successfully educate your senior level executive boss. It might be about social media or any other subject. There was a famous article about managing up, but the idea of "educating up" seems different.
Who Do You Know? - There was a fair amount of name and brand dropping during the afternoon's session. One particular theme was claiming friendship and alliance with a prominent, dead CEO; Sam Walton was the prime target. It's an interesting approach for speakers in that it makes it kind of hard to call somebody's bluff. - Mike Brown
The Brainzooming Group helps make smart organizations more successful by rapidly expanding their strategic options and creating innovative plans they can efficiently implement. Email us at brainzooming@gmail.com or call us at 816-509-5320 to learn how we can help you enhance your brand strategy and implementation efforts.