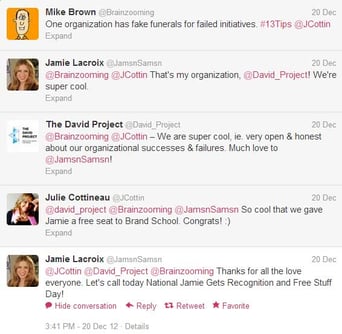 During a branding webinar presented by Julie Cotinneau, she asked for examples of how participants' organizations encourage and recognize failure in pursuit of business innovation. The Twitter exchange to the right ensued after Julie reported one organization holds fake funerals for its failed initiatives.
I immediately reached out to Jamie Lacroix to see if she'd share a guest blog post about fake funerals for failed business innovation initiatives.
Jamie, who you can tell from her tweets is a little shy (kidding), agreed! Jamie is the Director of Marketing & Communications for The David Project. She has responsibility for developing and managing its annual comprehensive marketing strategy, in addition to handling its website, marketing materials, advertising and press inquiries, and working with staff members to embrace The David Project's brand.
Here's Jamie with her super cool guest post:
Business Innovation - R.I.P. Failure by Jamie Lacroix
Winston Churchill once said, "Failure is not fatal." Well, if you work at The David Project, it is.
But let me expand on that, lest you think that we have some horrible policy about literally terminating our employees (think Darth Vader) should they fail at a task.
The David Project adopted seven Core Values in the spring of 2012, which are at the forefront of how all employees interact internally. (More on our Core Values can be found in another blog post I wrote: This Blog Post is Brought to you by the Number 7.)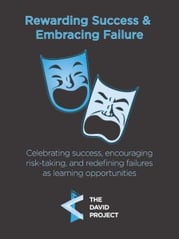 One of our Core Values is Rewarding Success & Embracing Failure, which means celebrating success, encouraging risk-taking, and redefining failures as learning opportunities. Well, the rewarding success part of this is a bit more straight-forward, as there are a number of ways to show an employee or team that they succeeded – ranging anywhere from a high-five to a full staff email to a promotion. The embracing failure part, on the other hand, is not so simple. How does one properly recognize failure without making a particular person or team in the organization look like failures themselves?
What The David Project came up with, after doing some research and brainstorming internally, was to create gravestones for our failed initiatives and hold fake funerals for them. This gives us the chance to reflect on why the initiative failed in the first place and how to better move forward with other ideas in the future. And yes, we may have ordered a Grim Reaper costume to wear when conducting said funerals. And yes, you may have to bribe a certain staff member here if you'd like to see said photos.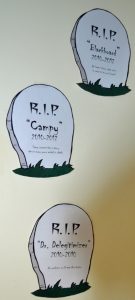 Creating these gravestones and holding funerals is a relatively new practice at The David Project. We currently have three gravestones in place, displayed for all to see who enter our "Green Room" – which is called such because we have a green screen in there. And a ping pong table that's green too, come to think of it. But I digress.
The gravestones state the name of the initiative or program and then contain a funny caption underneath. The captions are perhaps only funny to staff members, but that's our target for the Core Values, so it works. No one in particular is blamed for a failure, but the entire organization uses the opportunity to reflect upon why the initiative wasn't successful (e.g. it was no longer in line with our current strategic plan). We also use that time to tell funny stories and give examples about why the initiative was, perhaps, a complete flop.
Winston Churchill also said, "Success is stumbling from failure to failure with no loss of enthusiasm." That is the true reason why The David Project embraces failure. Every time we fail at something, we know that we tried the best we could and keep on trucking until we succeed at something else. Because really, when has someone been entirely successful without first failing a few times? - Jamie Lacroix
Download the free ebook, "Taking the NO Out of InNOvation" to help you generate fantastic creative thinking and ideas! For an organizational innovation success boost, contact The Brainzooming Group to help your team be more successful by rapidly expanding strategic options and creating innovative plans to efficiently implement. Email us at info@brainzooming.com or call us at 816-509-5320 to learn how we can deliver these benefits for you.