Great branding strategy examples abound. You just have to be on the lookout for them when they come across your path.
We were in St. Joseph, MO for a client session. The highlight of the car trip was driving by this ice cream stand, Kris and Kate's Ice Cream Treats. Can you believe how cute this place is? Although the sign outside said it is closed until March, a stop on the way back through town was mandatory to get a few pictures.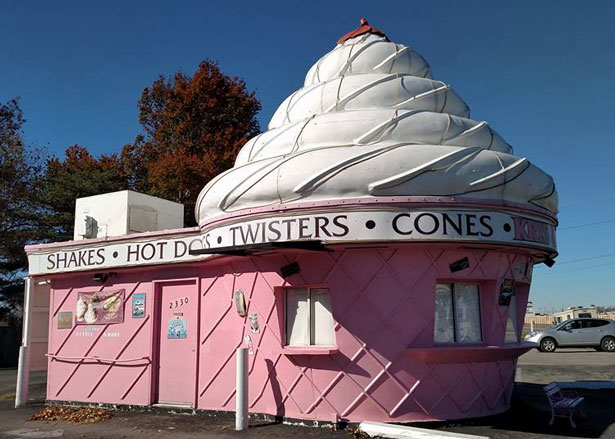 It was only after pulling into the parking lot at Kris and Kate's Ice Cream Treats on the return trip that something even more incredible than the building's design jumped out: the best brand promise ever.
"If you can think it, we can make it."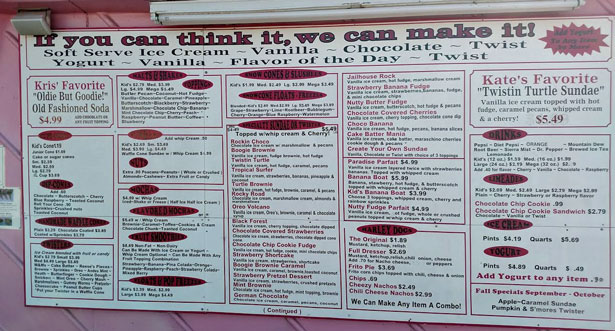 I don't know if Kris and Kate's Ice Cream Treats thinks about this as a brand promise, a slogan, or something else. It really doesn't matter, because it is the best brand promise ever - and not just for an ice cream stand in St. Joseph, MO.
If your organization specializes in one particular area, your branding strategy discussions should include the question: "If our customers can think it, can we make it?"
If that were your organization's brand promise, what would you have to do differently with your branding strategy when it comes to:
Responsiveness?
Flexibility?
Your commitment to figuring things out?
The ability to anticipate your customers?
Being ready for unusual requests?
Having resources in place to act?
Support organizationally for improvisation?
Support and guidelines instead of rules for employee behavior?
It gets pretty dizzying in a hurry!
But wouldn't the ability to do these things make your brand promise be the best brand promise ever?
I think we just stumbled over our newest brand experience exercise! - Mike Brown
Leaders are looking for powerful ways to engage strong collaborators to shape shared visions. They need strategic thinkers who can develop strategy and turn it into results.
This new Brainzooming mini-book, "Results - Creating Strategic Impact" unveils ten proven lessons for leaders to increase strategic collaboration, engagement, and create improved results.
Download this free, action-focused mini-book to:
Learn smart ways to separate strategic opportunities from the daily noise of business
Increase focus for your team with productive strategy questions everyone can use
Actively engage stakeholders in strategy AND implementation success