I admit using the word "brand" (and its derivatives) frequently. To me, branding is a very rich business term encompassing so much more than an organization's logo, color, and typeface. Yet talking with business people from across industries, it's clear a logo, color, and typeface are all that branding means for many of their organizations. Often brand expectations and brand experience don't surface in the conversations.
What Branding Should Mean for Your Organization
If your definition of brand is comparably narrow, you're missing the full range and impact of branding. Broadly viewed, branding encompasses a promise made by an organization to its customers (really any audience) about the experience they can expect when using the organization's products and/or services. Rather than originating from an ad agency creative session, a brand is the intersection of:
An organization's aspirations for its products/services, people, touchpoints, AND all its communications channels and
What its audiences expect, will accept, and reward from the experience the organization provides.
What brand elements are important is especially top-of-mind because while visiting my parents in Hays, KS, I had an opportunity to test what defines a brand experience.
Comparing a New Brand Experience to an Old Brand Experience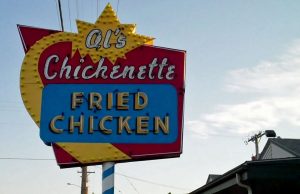 A popular, long-time Hays, KS restaurant, Al's Chickenette, had closed in October 2010, only to be re-opened in spring 2011 by a new owner. I hadn't eaten there in years, in part, based on perceptions the quality had declined dramatically. On my first visit to Hays since the re-opening, Al's Chickenette was high on my "we have to eat there list."
Having not had a brand experience with Al's Chickenette for 20 years, my brand expectations were rooted in youthful experiences with the restaurant.
Specifically, my brand expectations checklist included a variety of elements to judge the new Al's against the previous brand experience:
Décor – Did the neon lights, booths, and counter area look comparable?
Chipped Ice & Bottled Pop – I loved chipped ice in soft drinks. Al's had some of the best. As a kid, Al's used to serve is soda pop in bottles, which you don't see much anymore.
The Menu & the Chicken – At Al's it's all about the chicken. I don't remember if Al's had anything else. The fried chicken was always crunchy on the outside and very moist inside.
French Fries – Hand cut French Fries, dripping with grease or oil or whatever they were cooked in.
Homemade French Dressing & the Salads – Al's was known for its special homemade French dressing, with just a bit of tangy flavor. The lettuce was wet from having been torn and washed onsite.
How did the new Al's Chickenette brand experience do?
Quite honestly, the most important thing for me in determining whether the current brand was true to the old brand was the French dressing. It was the one unique element of the original brand. And despite the waitress telling us that some people were saying the dressing didn't match up, it was, to my taste, right on the money.
So I walked away with a positive brand experience as a result of one thing - the French dressing - even though the rest of the brand elements I'd identified as important were a mixed bag:
The fries looked the same and were less greasy (a positive), and the décor was the same.
There was no chipped ice or bottled pop.
The menu was unnecessarily expanded (it even included a couple of breakfast items – eek!).
The chicken was dry and unremarkable - along with not being served the right order.
The salad wasn't freshly prepared, so the lettuce in it was very dry.
But because the French dressing was true to my brand expectations, the entire brand was true for me – even though the restaurant name is centered around chicken, not salad dressing.
What Your Brand Means to Your Customers
All of this is to say your brand isn't COMPLETELY out of your organization's hands (as some contend), but it's important to realize customers will likely see and experience your brand with subtleties you wouldn't naturally expect.
If you take a narrow typographically-oriented view of your brand, you run the risk of diminishing consumer loyalty by not paying attention to apparently subtle brand experience elements that may define your brand for consumers. - Mike Brown
The Brainzooming Group helps make smart organizations more successful by rapidly expanding their strategic options and creating innovative plans they can efficiently implement. Email us atbrainzooming@gmail.com or call us at 816-509-5320 to see how we can help you devise a successful innovation strategy for your organization.