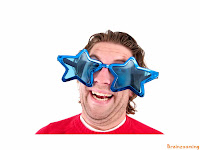 This year was an unusual one to begin blogging. Amid challenging business and economic conditions (which provide a lot of potential material), my typical creative times (on planes) and stimuli (travel and exposure to new, external ideas) have been in short supply while creating five posts weekly on strategy and innovation.
That's why I've relished opportunities to interact and learn from other marketers and business people at the various events I've been fortunate enough to speak at this year. They've provided a wonderful source of material, and the current conference is no exception.
Yesterday included two sessions at the marcus evans Customer Segmentation conference in Miami – one on Brainzooming and the other an interactive exchange where the group shared segmentation best practices in an exercise called, "90 Second Solutions." There were a number of interesting presentations from a variety of companies that I'll recap next week.
As we wrap up Anniversary Week, thanks for reading the blog and remember – let me know what you're thinking and what you'd like to see here in the coming year!