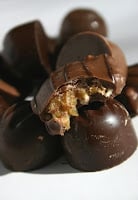 No matter what you think of the character, Forrest Gump's approach to the simplicity of life found him at the center of most major events of the second half of the twentieth century. When striving to simplify some of your complex problems, it would be interesting to see what possibilities would emerge by applying his outlook. Try it, seeking three new ideas from each of these perspectives that Forrest Gump applies:
Listening to his mother's advice
Not having a lot of expectations
Being open to new experiences
Seeing all people the same, without prejudice
Not making demands on others
Not being judgmental
Finding the good in negative situations
Maintaining a positive outlook
Being loyal to his friends
Following simple philosophical principles
Doing the basics that make a significant impact
Being good hearted and generous
Check out a compilation of "Change Your Character" creative thinking exercises and information on its use. – Mike Brown
The Brainzooming Group helps make smart organizations more successful by rapidly expanding their strategic options and creating innovative plans they can efficiently implement. Email us at info@brainzooming.com or call us at 816-509-5320 to learn how we can help you enhance your strategy and implementation efforts.