Brainzooming questions, tools, and exercises come from diverse sources. We often imagine them from reading between the lines of articles describing innovation successes. We'll digest how organizations ranging from corporations to entrepreneurs and nonprofits are pursuing innovative growth. Then, we envision lists of questions and prompts that could have triggered their innovative strategies.
The January issue of Feast Magazine, which "broadens the conversation about food and engages a large, hungry audience of food-lovers" around the Midwest published its Rising Stars issue. Feast profiled twenty-four "culinary creatives making their mark." Perusing snapshots of food innovators screamed out to me: take notes and describe the strategies these individuals are using, although not typically calling out in the article.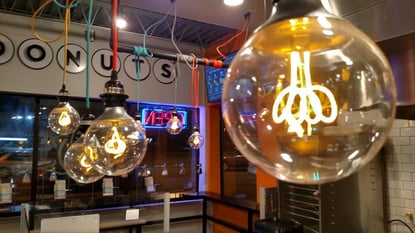 94 Ideas to Imagine Innovative Growth Strategies
From my notes, here are ninety-four innovation and growth strategies these emerging food stars are employing.
No matter your industry or company size, you can dive into this list to generate potential ideas for innovation and growth. Ask for each prompt: What would doing this look like in our organization?
Go beyond listing one idea per prompt; use each prompt to generate five-to-ten ideas. You can select prompts from the categories where your business most needs an innovative jumpstart. Alternatively, you can select them at random to surprise yourself with the ideas they suggest.
Have fun. More importantly, take advantage of investing fifteen minutes to do some new thinking for your organization's innovative future.
Branding and Marketing
Create your equivalent of a pop-up version of your brand
Go back to your brand's traditional customer favorites
Increase the customization in what you do
Shift even more of what you do online
Challenge the stigmas attached to your market and brand
Collaborate with other brands in your market
Compete for third-party awards
Only offer things where you have a strong story behind them
Don't limit yourself to one cultural tradition
Make your brand and customer experience fun for everyone
Offer free giveaways to individuals who will use and share stories about your products
Make your brand more cheerful
Increase your brand (and market's) approachability
Get closer to the roots of your business
Open a retail store
Improve your facilities and capabilities
Strategy
Give up on all your plans that aren't working
Focus on the things that have generated the most momentum recently
Tuck your brand under another brand to help you grow and develop more quickly and fully
Refuse to give up on your original vision
Repurpose the things that are working for you
Decide to expand dramatically then do everything to make it happen
Pay attention to how things used to be done and bring the best lessons forward
Focus on the why underlying what you do
Make sure you have a clear, well-understood mission and follow it with a passion
Start a side business
Start with a scaled-down version to develop the proof-of-concept for what you ultimately want to do
Expand your long-term view
Seek out grants to fund what you do
Customers and Experience
Cultivate a more loyal more customer base
Give even more focus to your customers
Give prospects the opportunity to sample what you do
Let customers reserve what they want
Solicit, listen to, and do something with customer feedback
Show more interest in your customers (and everyone else who might be interested in your brand)
Don't overlook friends as prospects for what you do
Consciously appeal to very different tastes among customers
Work on creating camaraderie inside and around your business
Create an enjoyable process for employees and customers
Ask about fan favorites and heavy up on them
Make it easy for newcomers (employees and customers) to succeed
Personal Development
Work harder
Approach your responsibilities as a solopreneur
Focus on where you have the most career experience
Amp up your passion about what you do
Focus your efforts on something you'd want to do forever
Incorporate your hobbies into what you do
Make everything yourself
Be more perfectionistic about what you deliver, and let people know about that
Take time to talk with your collaborators and share ideas
Learning
Watch YouTube videos for free training for you and your team
Research more about what you do and could do
Drown yourself in the fundamentals of what you do
Make sure you are learning new things every day
Keep a journal to record your learnings
Provide the training for everyone to be successful with changes in your business
Invest hours in R&D every week
Look over all the books in your market space
Innovation
Experiment more with new offerings and specials
Cultivate a broader market environment that helps both you and your competitors
Go all-in on creative ideas
Make up your own rules
Take a road trip for inspiration and to discover needed assets
Challenge your marketplace's views of what's acceptable, normal, or safe
Community Building
Feature other important people and brands in your ecosystem
Partner with nonprofit organizations to do something good for them
Create a network within and around your brand
Actively support minority-owned businesses
Encourage new entrepreneurs to start their own businesses
Increase your brand's generosity
Products and Services
Offer DIY versions of what you sell
Try new combinations of what you offer
Frequently change what you offer
Make sure everything you do is complete and will work the first time
Test all the new things you are planning to introduce
Don't overlook a single detail
Team Development
Feature your brand's experts
Get some part-time people involved to extend you (and your team)
Bring people with no experience into your business to learn from their fresh perspectives and develop them
Do more for your employees than most employers would
Expanding Diversity
Increase the diversity of your experience
Merge different ways of doing things into unique combinations