It is beneficial to save ideas you brainstormed but did not use since they may work for someone else or at a later time for you. Today's post is a great example of this principle where you can save ideas to offer them to someone else later.
I chaired a global market research virtual event for the American Marketing Association in 2010. As part of our virtual event planning, we did a Brainzooming creativity session and brainstormed ideas to take best advantage of our virtual event opportunity. We brainstormed several hundred ideas, many of which were specific social media ideas for how to drive virtual event success.

Flash forward two years, and I will be speaking Monday afternoon at the Virtual Edge Institute 2012 conference on using social media ideas to drive virtual events by growing attendance and creating greater engagement.
Recently, I went back through our final Brainzooming report document from the 2010 American Marketing Association virtual event and identified out this list of 51 social media ideas to drive virtual events.
Many of the social media ideas could apply to any type of event or even other marketing programs. But since it does not make much sense to go through a list of 51 ideas during a presentation, the list is shared for you and all the attendees at the Monday Virtual Edge Institute session (4 pm PDT on Monday, January 9). Please feel free to borrow any of these ideas and adapt them to suit your organization's purposes. And if you would like to follow along during Monday's session, be sure to track the Twitter hashtag #VES12!
Attendance Building
1. Create a micro-site for the conference – drive members there via email campaigns
2. Create themed web badges for speakers/sponsors/exhibitors to put on their sites
3. Crowd source a "10 Ways to Sell Your Attendance to Your Boss" list
4. Offer a free association membership for life as a contest give-away
5. Do a weekly give away on social media channels leading up to the conference
6. Extend offers at special times of the day
7. Extend offers for the event on Facebook, Twitter, LinkedIn, etc.
8. Offer a dramatic prize for the 500th registrant for the digital event
9. Sponsor a scholarship program for out of work attendees to participate
10. Provide an offer to digital event attendees to attend future in-person events at a reduced rate
11. Give previous attendees a discount for referrals, plus free attendance for the person who gets the most referrals over some target number
Interactivity
12. Actively build the Twitter following for the event's Twitter account well in advance of the event
13. Develop a conference / event app
14. Host a monthly, industry-oriented Twitter chat leading up to or kicking off with the digital event
15. Create an event word cloud that evolves over the day
16. Crowd source a "What the future of the industry looks like" video or article
17. Crowd source nominations for annual awards via social networks
18. Crowd source the theme for the next digital event
19. Conduct a pre-event session on how to get more out of the conference through social media
20. Hold a webinar for attendees before the conference on maximizing the value of the digital event experience
21. Have a live viewing session for the digital event in high-density membership areas
22. Have an online interaction area for attendees and speakers
23. Invite industry professionals to share content for the event community website
24. Monitor the event Twitter feed and introduce people to each other
25. Produce the social media content at the event with a team approach
26. Offer an incentive for attendees to blog or live tweet about the conference
27. Provide exclusive digital interactions with speakers at the event
Networking
28. Allow attendees to post resumes and job opportunities in the virtual event
29. Create a buddy / mentoring system for senior and junior people in the industry to reach out to each other, network, and schedule time together at the event
30. Do a virtual speed-networking event
31. Pair people up with similar interests at the conference through a community matching approach
32. Provide different avatar backgrounds for attendees to indicate their interest areas, experience, event objectives, etc.
33. Provide a means to network and pre-schedule meetings with suppliers or clients through a social media platform
Presentations / Content
34. Best rated / most popular breakout sessions (as identified through social media channels) are repeated in a general session
35. Crowd source a final recap presentation by soliciting ideas throughout the meeting via Twitter and other social networks
36. Crowd source session ideas from among social networks
37. Crowd source virtual event word of the day ideas from attendees
38. Host a global panel with Skype/video participation from all over the world
39. Do a session based on crowd sourcing a list of industry predictions that did/didn't come true
40. Have attendees submit their own 1-2 minute videos that are compiled and shown
41. Have featured presenters doing a running commentary on social networks throughout the event
42. Host a virtual unconference – select a topic during the day of the digital event and discuss it live on Twitter or in an online chat room
43. Let attendees submit "new" content before the conference and the top 3 people get to present for 20 minutes
44. Create an online group to submit conference ideas
45. Post short teaser videos from presenters covering their topics
46. Solicit questions for presenters via social media
47. Win a video camera for the best ideas on how you will use it to create content for the event
Trade Show / Exhibitors
48. Allow exhibitors to put videos of best practices on a conference community site
49. Provide a coaching session for exhibitors on interactive and social media elements of the conference to maximize their business building experience
50. Solicit and provide e-opinions on suppliers
51. Video 2-minute pitches / interviews with exhibitors on the cool things they are doing. Show videos around presentations at general session & prompt attendees to visit the exhibitors
And what other social media ideas do you have?
What other social media ideas would you add to the list to driver virtual events? Please share them in the comments! If you're at the Virtual Edge Institute (#VES12) in San Diego next week, please stop by and attend my Monday afternoon session! – Mike Brown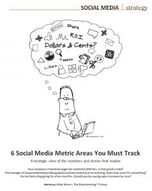 If you're struggling with determining ROI and evaluating its impacts, download "6 Social Media Metrics You Must Track" today! This article provides a concise, strategic view of the numbers and stories that matter in shaping, implementing, and evaluating your strategy. You'll learn lessons about when to address measurement strategy, identifying overlooked ROI opportunities, and creating a 6-metric dashboard. Download Your Free Copy of "6 Social Media Metrics You Must Track!