Who should you invite to participate in an innovation strategy workshop?
We've written about three important strategic perspectives (general management, functional expertise, and people with creative energy) and three types of voices (traditional, challenger, and emerging) to include in any type of strategy workshop.
Working with a client to identify potential participants for an innovation strategy workshop, we identified five other participant profiles to expand the workshop diversity:
1. Unafraid People - Individuals that don't care about what other people think, say, or do relative to their ideas.
2. The Voices of the Organization - People who will be able to share what the organization thinks - whether easy or challenging to hear. These are the individuals that everyone in the organization talks to about their aspirations and concerns.
3. Organizational Reactors - These are the people who, whenever an announcement is made or big news happens, everyone watches to see their expressions and the intensity of whatever emotions they display.
4. Entitled Owners - Individuals within the organization that only support implementation of their own idea and programs. You invite these individuals (in a reasonable numbers) so they feel as if the innovative ideas emerging are their own.
Adding individuals in each of these four groups, we grew the list of potential participants. We still hadn't accounted for every department or tenure group that needed representation in the innovation strategy workshop. But they were out of people who would provide an innovative perspective.So, we added another potential group of participants:
5. People who won't do any harm. These are individuals who might not contribute much to new thinking but won't detract from the innovative thinking of others.
Identifying these five groups pushed us to the diversity we needed to move forward with the innovation strategy workshop.
Which leads to a question YOU will need to answer: Who is in your YOUR innovation strategy workshop? – Mike Brown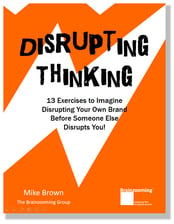 This FREE eBook features thirteen question-based exercises to foster strategic conversations for disrupting
Brand benefits and value propositions
Marketing strategies
Organizational structures and processes
Risk-taking behaviors
Industry and market dynamics
New business initiatives
Disrupting Thinking is the answer to starting the conversations your leadership team needs to have about disrupting your own brand before unexpected competitors do it to you first!