What leadership skills are necessary to successfully champion a collaborative strategy?
A client fully immersed in developing and implementing a collaborative strategy asked that question. The task at hand is selecting "champions" from among the organization's leadership team to move forward with strategic initiatives developed from the input of employees across the organization.
The question is a critical one that's started emerging with a variety of client organizations. Since we're involved at the heart of driving the process to develop a collaborative strategy, we navigate our way through the development process based on an organization's specific culture enablers and quirks.
When we leave after the plan is completed, however, we're finding many leaders aren't prepared to implement a collaborative strategy plan. The big difference a leader has to account for is that even if an organization operates in silos, you can't implement a collaborative strategy plan in a silo. Since so many people have a stake in a collaborative plan, those individuals need to participate in the implementation or at least have visibility to the plan coming to life.
This is a topic I'm turning my attention toward increasingly, because we HAVE TO help develop leaders that can successfully implement collaborative plans. It's not necessarily a different type of leader than exists in business today. They are out there; we've worked with them across industries. The issue is it requires a leadership style that many organizations have never fostered.
4 Vital Characteristics of Collaborative Strategy Leaders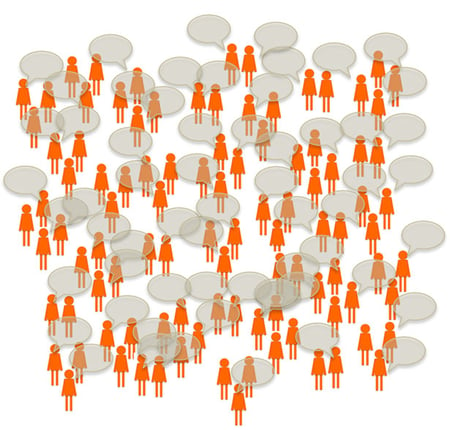 Here are four vital characteristics of collaborative strategy leaders:
#1 - They actively seek out the energy of the organization.
These leaders are continually reaching out in all directions for what people in the organization are passionate about and trying to make happen. They affiliate up, down, and across the organization; they reach out to all levels and areas to ask questions, listen, synthesize what they learn, and share updates back to all the areas that participate in implementation.
#2 - They integrate the organization's energy and activities into the collaborative strategy.
You can't simply send out a plan and think everyone will implement it. As a collaborative leader sees activity even remotely linked to the bigger organizational plan, they work to integrate it. That means finding points of connection, offering or suggesting adjustments that align activities to the plan to accelerate their momentum, and/or inviting cooperation among parties driving activities that should be in the plan.
#3 - They connect the people, parts, and pieces that will benefit each other.
This seems a like number 2, but there's a difference. The previous characteristic is about connecting people and activities in the organization to the plan. This focuses on connecting people and activities to one another that are related. Creating these connections helps the organization move forward more quickly and dramatically with greater alignment.
#4 - They serve the people, the collaborative initiatives, and the organization above their own concerns.
You could put this first or last on the list. It's the foundation of the leadership style. These collaborative leaders are motivated and act based on the overall good instead of what suits their own agenda or part of the company. They are in the collaborative strategy leader role for the organization's overall success even if it means their own interests have to take one for the team.
There's more to say on collaborative strategy leaders.
We'll keep after this topic. This is a starting point, however, to look around and see which current and emerging leaders are ready to step into new roles championing collaborative strategy. - Mike Brown
Leaders need high-impact ways to develop employees that can provide input into strategic planning and then turn it into results. This Brainzooming mini-book, "Results - Creating Strategic Impact" unveils ten proven lessons leaders can use to boost collaboration, meaningful strategic conversations, and results.
Download this free, action-focused mini-book to:
Learn smart ways to separate strategic opportunities from the daily noise of business
Increase focus for your team with productive strategy questions everyone can use
Actively engage stakeholders in strategy AND implementation success