We experience it all the time: executives generate ideas to fill the size of the innovation questions we ask.
If a question seems familiar relative to today's environment, the ideas are generally incremental and suggest slight changes.
Present a situation that is dramatically different compared to today, and we find the ideas grow tremendously more dramatic, innovative, and surprising.
The more intriguing the question or scenario, the more intriguing the responses: Using the right combinations and patterns of questions, you reach actionable, innovative ideas.
The 32 Innovation Questions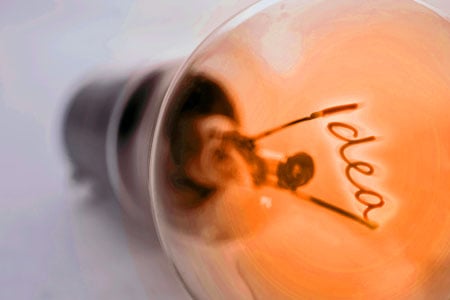 Brainzooming invests significant time on an ongoing basis in devising intriguing and challenging questions. Here are question sets you can use to stimulate and stretch innovative thinking in multiple ways for your organization or team:
Growing Visionary Potential
Who are the visionaries in the organization?
Do we specifically hire for new visionary thinkers?
If not, what else are we doing to look forward and innovate in dramatic ways that will surprise and delight the industry?
Envisioning a Bold Future
Create a bold graphic or word description of your expected future in the industry or marketplace ten or twenty years from now, then ask:
What are we doing to innovate and create a business to succeed in that world?
Maximizing Visual Impact
What is visually interesting about the organization, where we do business, and the customer experiences we create?
When are customers sharing photos and short videos as they interact with our brand?
Who in the organization thinks about and has the authority to do something to design more visually intriguing customer experiences?
Staying Ultra-close to Customers
Creating New Offerings
(For industrial product companies) How could thinking about the experience of the end user who interacts with the product suggest innovative ideas?
(For organizations that make things) What ongoing service could we design to make the experience better and more productive for end users?
(If you aren't a technology company right now) What application could we intertwine with what we do to make customers more successful and provide them greater ongoing value?
Boosting Diverse Thinking
Look around your senior leadership meetings, then ask:
Engaging Audiences
If customers played an ongoing, dynamic role in shaping and changing the product, what positive things might start happening?
What surprising things might start happening?
How can we begin crowd sourcing as an ongoing way to innovate and improve offerings and solve increasingly bigger customer challenges?
What if we started customer sourcing ideas for every customer experience initiative, whether big or small?
Expanding Data
How could everything we produce in the organization – physical, digital, experiential – generate user data to better understand when, what, why, where, and how customers are interacting with us?
What innovations could we launch because we have this data?
Employee Sourcing
What would it look like if everything stopped for a day to have employees describe in images how the organization can reimagine current processes, experiences, and products?
What if they imagined completely new processes, experiences, and products?
Even if you can't shut down for a day, how can you best simulate this experience?
Maximize Technology
What more could any of the following technologies do to provide additional information, expand services, or otherwise innovate and improve the business?
Drones
Data scientists?
Internet of things?
Adaptive AI?
Digital twins?
The metaverse?
Innovation Questions and Generating Ideas
Select a few of these questions and scenarios to use soon. You'll see a difference in the engagement and boldness of thinking within your team! - Mike Brown