What's the best way to make an effective transition between speakers during a group presentation, especially if you don't want the transition to be as clunky and awkward as most of them are in practice? A group of young executives at a Brainzooming strategic thinking workshop asked this question about passing the presenter role within group presentations.
I applauded them for thinking about making transitions more seamless. It's a smart approach. It does require planning, practice, and being attentive and ready when you're live. All three are worth the effort for their positive impact on the audience experience.
Planning, Practice, and Attentiveness for Group Presentations
Here's my advice in each area.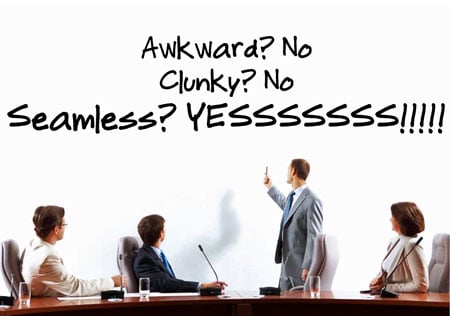 1. Pick a strategy in advance
There are varied strategies you can choose. Here are three I suggested to the workshop participants:
Mini-intro
At the conclusion of one section, the first presenter shares a quick overview of what the next presenter will cover, along with casually mentioning the next presenter's first name within the comments. There's no big introduction offered. The second presenter begins with staying "thank you, FIRST NAME," and then moves immediately into content to maximize the presentation's ongoing impact.
Full Seamless
The first presenter ends that section with a pertinent big question (ideally that audience members may be asking themselves) and stops cold. The second presenter immediately answers the question and goes forward with the presentation without hesitation. The result? It's like two minds seamlessly thinking and speaking as one. This is my favorite approach.
Bare Bones Introduction
If you do need to introduce the next presenter, as the first speaker makes final comments, they preview what's coming next and says "FIRST NAME, TITLE, will next share __________. Fill in the blank with only a few words (and no spoiler alerts) about what the next presenter will address. The next presenter says, "Thank you," and then immediately goes into the presentation content without explaining once again who they are and what they are going to say.
From these or other strategies, select an approach that best fits your actual presentation setting and/or provides the flexibility to adapt on the fly.
Importantly, introduce all the speakers before the presentation begins so that introductions do not detract from the attention and time you have available to cover actual presentation content.
2. Practice the Transitions
It's vital to practice all the transitions that you plan to make just as each presenter rehearses the content they'll deliver. To achieve seamlessness in the moment generally requires that you've worked through all the awkwardness ahead of time.
As you practice, here's one suggestion for the physical movement between presenters that you could rehearse. If the presenters aren't sitting together (say, in seats around a big conference table), it's can be very effective as the first presenter wraps up to move to where the second presenter is seated. The second presenter stands up and takes the floor while the first presenter sits down in that seat. This won't work in every environment, but it's a visual cue for a seamless transition.
3. Be Attentive and Ready Throughout
During the actual presentation, it's vital for all of the speakers to realize that they are "on stage" whether they are presenting or not at that moment. It's not acceptable to look bored, skeptical, or frustrated while your co-presenter is speaking. Simply adopting this stance will help each presenter pay more attention and be ready to transition.
You can also apply subtle visual cues to get everyone ready. Consider changing something subtle on a presenter's last slide (a different color icon or even a different or missing icon) to signal to the team that a transition is about to happen.
The Big Takeaway
If nothing else, set one group presentation goal around not making and repeating clunky introductions throughout. Introduce everyone before you start and focus on your amazing delivery and content from that point on. - Mike Brown